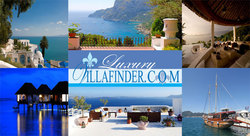 LuxuryVillafinder was designed to bring careful owners together with guests who will savor their homes, their bijoux hotels, or unique travel experiences."
London, UK (PRWEB) July 20, 2010
To accommodate a growing number of travelers seeking stylish self-catering and villa holidays, Luxury Villa Finder (http://www.luxuryvillafinder.com), the new darling of vacation home advertising, is actively partnering with travel and hospitality industry advertisers to showcase and promote the world's most remarkable properties. The site features properties in regions all over the globe, including Bali, Morocco, Europe, the Mediterranean and more.
Apart from villas, estates and furnished city apartments, the site will showcase a wide selection of the luxury travel world's most elegant and unique bed and breakfast inns, full-service boutique hotels and private serviced villas within resort communities.
Catered learning, fitness, and special interest retreats held in gorgeous private homes or small hotels are increasingly appealing to tour leaders and travelers. The privileged guest is also seeking out more all-inclusive exotic and remote safari lodges, secluded island escapes and specialty vessel charters like gulets, barges, and houseboats. These discerning travelers are moving away from the large hotel chains and moving into more unique and memorable vacation experiences.
Luxury Villa Finder's "Launch Celebration Special Offer" is currently available to luxury property owners and agents. For a limited time, those eligible will receive 50 percent off a beautifully detailed one-year listing which includes a valuable package of social media announcements and other perks.
"As the diversity in the selection of vacation properties continues to grow, travelers now have more options than ever when planning their next trip," said Sarah Sullivan, representative. "In developing Luxury Villa Finder, we've sought to create a site that can properly highlight all the features and amenities of many of the world's most unique and beautiful private vacation rental properties. These are the type of homes that accommodate today's sophisticated traveler as they shift away from hotel stays. These include staffed castle rentals, and luxury lettings that can sumptuously service small special interest groups or tours. We welcome owners of villas and hotels who host cooking classes, wine and culinary tours, art classes, or language schools hosted within pretty properties in sought-after destinations."
Luxury Villa Finder caters to travelers who want to make the most of their vacation getaway and find a little piece of paradise at a country manor house, posh ski chalet, staffed beach villa, romantic maison d'hôtes, comfortably outfitted sailboat or other exclusive property or experience.
The site has a deep and thoughtful search engine that allows users to be very wide in their criteria or get very exacting so that just the right home or experience can be chosen. Advertisers are expected to create extremely detailed listings that take all or most of those usual unanswered questions or concerns out of the vacation rental transaction. Time is saved by both owner and guest when booking a home.
"Something as seemingly basic as what kind and brand of mattresses are on the beds, or the presence of a fully-equipped home office can make or break a luxury vacation for some clients," Sarah Sullivan said. "We encourage our advertisers to share everything they can, right down to the smallest detail, so the guests know exactly what to expect. Often one person is responsible for booking a home for an entire family or group, and it's all on them if the house turns out to be a dud that doesn't meet all their various needs. The site's Advanced Search Features help avoid that. LuxuryVillafinder.com was designed to cater to and inform guests well, but also to help owners get just the right bookings and avoid misunderstandings and problems."
Sarah Sullivan continued, "For the owner of a vacation home with highly personalized touches like libraries, art collections, antiques and special decor, not to mention long-term staff members, often the home in question is so much more than an investment gaining income from transient guests. The income can be less important to an owner than the question of the type of people renting and how they will treat, respect, and enjoy the home. The need or desire for income is there, of course, but a premium home often represents a special experience that they want to share with others, and not just anybody; it's their home, after all, or one of them, and they want peace of mind. LuxuryVillafinder was designed to bring careful owners together with guests who will savor their homes, their bijoux hotels, or unique travel experiences."
All manner of special interest properties can be presented on the site, including golf, ski and beach vacations and other types of more unique holidays like ranch or farm stays, pet-friendly rentals or mansions and villas that allow special events, even homes near the seven wonders or world heritage sites. All properties listed on the site promise outstanding comfort, charm, beautiful décor, idyllic settings and plentiful amenities. Moreover, properties with the "Lux Veritas Verification" have been screened and approved by staff to ensure guests' security.
For more information, to browse properties or to become a Luxury Villa Finder advertiser or to join its generous affiliate program, visit http://www.luxuryvillafinder.com.
About Luxury Villa Finder
Launched in 2010, Luxury Villa Finder is soon-to-be one of the world's most premiere online destinations for luxury vacation rentals, villa holidays, exclusive honeymoon hideaways, eco-friendly retreats and other luxurious properties. The site offers a user-friendly, web-based solution for vacationers seeking specialty vacation properties that promise comfort, privacy, glamour and an unforgettable experience. For more information, to search properties across the globe or to advertise, visit http://www.luxuryvillafinder.com.
# # #