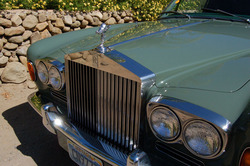 You can tell it was well taken care of
Ventura, CA, (PRWEB) September 12, 2007
When a vintage Rolls Royce Silver Shadow rolled through its doors, Cars 4 Causes®, moved immediately into online auction mode and put the Rolls up for sale on Ebay.
The classic 1970 Silver Shadow two-door sedan, one of only 199 cars produced like it, was donated to Cars 4 Causes® by an anonymous owner. The charity, dubbed "The Charity that Gives to Charities"®, accepts car donations and passes proceeds on to other charities.
"The Rolls Royce came into Cars 4 Causes® in pristine condition," says Pat Jessup, executive director of the 501 (c)(3), tax-exempt corporation. "It appears to have been painted at some point in its life although that would be nearly impossible to tell by an untrained eye." And the color is a recreation of the original.
The interior, in near-perfect condition as well, is faux wood and green. "The car is beautiful," Jessup says. "But what impresses me even more is the generosity of the donor." Cars 4 Causes® periodically receives luxury car donations, though most of the 400 to 500 donated cars the charity processes monthly fall more into the category of affordable transportation.
When the charity receives luxury cars, it often takes them for a turn on the international superhighway, auctioning them to the highest bidder on the Web. The organization's reasoning is bottom line: it wants to garner market value or greater for the donated vehicle. Using the Internet, Cars 4 Causes® can expose the Rolls to an international buying public.
That exposure can make a difference in the charity's sale of luxury cars; it has sold high-end cars to buyers from Japan, Russia, China, Europe and Mexico in the past. And the better the selling price, the higher the potential proceeds become for the charities that receive donations through Cars 4 Causes®.
Although the Rolls Royce Silver Shadow is an anonymous donation, Jessup says she's convinced that the car was well-loved by its previous owners. "You can tell it was well taken care of," she says. And now its sale will benefit someone in need.
Cars 4 Causes®, "The Charity That Gives To Charities"® is a non-profit, IRS Code 501(c)(3) tax-exempt charity. We help people turn used vehicles into tax-deductible charity donations. Cars 4 Causes® has been a trusted avenue for charity funding since 1997. Proceeds from tax-deductible donations of vehicles go to qualifying non-profits. Read our Vehicle Donation FAQ's to see how Cars 4 Causes® works for you.
###