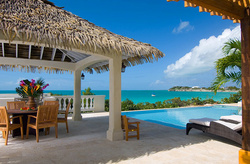 People shouldn't be afraid to ask tough questions and request detailed financial information. If a club won't cooperate, it isn't a club that they should join.
Boston, MA (PRWEB) July 1, 2008
While much of the media's recent coverage of the real estate market has been focused on the meltdown of home sales and declining values, one niche market's success has been almost entirely overlooked.
Luxury destination clubs - exclusive membership groups that entitle members to use upscale, fully serviced vacation homes in some of the world's most sought after vacation spots - are gaining in popularity among wealthy Americans. Ragatz Associates reported earlier this year that investments in U.S.-based destination clubs rose six percent to $610 million in 2007. While this increase is modest, it becomes more impressive when compared to the 30-percent drop in second home purchases during that same period as reported by the National Association of Realtors.
Shared luxury property expert Nick Copley, president and senior analyst of SherpaReport.com, an online publication devoted to the burgeoning industry, isn't surprised by the increases in the face of an otherwise down housing market.
"Since this relatively new form of vacation home ownership came onto the scene in 1998, it has really exploded in popularity," says Copley. "Its advantages are quite compelling. When you combine access to multiple luxurious homes all over the world, great locations and five-star service, with not having the hassle of maintaining a second home, you have a very successful formula."
Another difference between second homes and destination clubs is the level of personal service provided by the clubs.
"It's typical for the concierge staff of a destination club to arrange for surfboard rentals in the summer and ski rentals in the winter," says Copley. "Theatre tickets, local tours, favorite foods in the refrigerator and even luxury cars in the garage can all be waiting for members when they arrive."
With initiation fees varying between $30,000 and $3 million and yearly membership fees ranging from $3,500 to $85,000, not everyone can afford the advantages offered by destination clubs. But that hasn't seemed to dissuade a growing number of wealthy vacationers from choosing destination club memberships over second home ownership. In fact, Copley suggests that judged purely in terms of economics, destination clubs offer a good deal when compared to owning a vacation home.
"It takes money to buy into a destination club, but the membership fee is often roughly equivalent to the down payment one would have to make on a multi-million dollar home," says Copley. "Annual membership dues are typically less than the annual upkeep on one home, and yet members typically have their choice of locations in which to enjoy their two to eight weeks of use per year."
According to Copley, the key to deciding whether or not to join a destination club, and for that matter deciding which club to join, is research, research, research.
"Potential members should really treat the prospect of becoming a destination club member with the same approach they'd have in making any large lifestyle investment, because in a very real sense that is what destination clubs are," said Copley. "People shouldn't be afraid to ask tough questions and request detailed financial information. If a club won't cooperate, it isn't a club that they should join."
To help prospective members get the right kinds of information, SherpaReport.com has developed a checklist of questions that should be asked of club officials. The checklist is part of Destination Clubs: A Guide for Prospective Members, an extensive, 60-plus page publication produced annually by SherpaReport.com. The guide also includes an overview of destination clubs, comparisons of the world's most popular clubs and industry trends. The current version of the guide is available to download at http://www.sherpareport.com/a-guide-for-prospective-members.html.
###