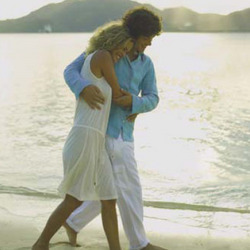 London, Greater London (PRWEB) February 5, 2009
If you are getting married this year then congratulations! You are probably snowed under right now with all the preparations for the big day. What with invitations, flowers, dresses, catering, seating plans and so much more to organise you're probably thinking that quiet escape to Gretna wouldn't be such a bad idea.
However, when the big day does arrive then all of the planning will have been worth it and, what is more, you will have the honeymoon to relax and recover and start married life in peace and harmony. So where are you going on your honeymoon? Does that question make your heart sink? With all the wedding plans it's not surprising that many couples think of the honeymoon as an afterthought, anywhere will do as long as it's peace and quiet! Well here are six fantastic honeymoon destinations for 2009 to try and make your life that little bit easier.
1. Botswana Honeymoon
Probably not in your thinking as a classic honeymoon destination but it certainly should be. Imagine starting married life surrounded by an African paradise. The Botswana honeymoon promises a magical experiences with the chance to see elephants, wildebeest and lions plus some fantastic landscape. You can also celebrate in style with a romantic boat ride in a traditional mokoro.
2. Vietnam Honeymoon
A rapidly developing country which still maintains its traditional roots, the Vietnam honeymoon is an Asian delight. From bustling cities to breathtaking mountains, to sun-soaked beaches, you are sure to find a destination to suit your needs and wants in Vietnam. The cities are modern with stylish chic boutiques and some great restaurants, yet you will still spot the traditional street vendors wearing conical hats that you associate with Asian culture.
3. Thailand Honeymoon
Now a major tourist attraction yet still manages to keep its culture intact. The Thais have perfected the art of luxury hospitality and your Thailand honeymoon can be one of pampering and much need relaxing. When you do feel like venturing out of the paradise of your villa you will discover that Thailand has lots to offer, from beaches to museums to some of the best shopping in the world.
4. Singapore Honeymoon
This island state has a squeaky clean reputation with English widely spoken, making it easy and a joy to discover. There is a wide range of cultures, from Indian to Malaysian to Chinese and it makes for a truly interesting mix. The Singapore honeymoon can be a whirlwind with so much to see and a trishaw ride around the city is highly recommended as a romantic way to take it all in.
5. Malaysia Honeymoon
A true mix of city break and sun-soaked paradise with some fantastic coral reef if you wish to scuba. Kuala Lumpa has some wonderful architecture and is awash with quality restaurants, bars and shops. Further afield there is unspoiled rainforest and sandy beaches. However, don't think the Malaysia honeymoon is all play and no rest, the country boasts some fantastic luxury retreats.
6. Bali Honeymoon
Part of Indonesia, the island of Bali is known as 'the island of a thousand temples' due to the numerous ancient temples around the island. Bali also boasts some towering volcanoes and many exotic flowers making the Bali honeymoon a truly magical experience. There are many luxury villas on the island that are perfect destinations for honeymooners.
###