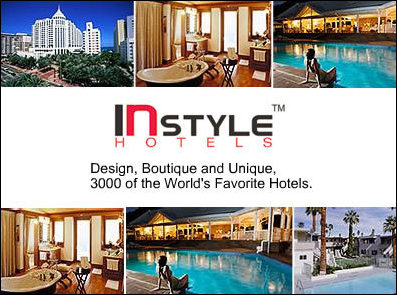 Finding the perfect hotel is becoming more difficult, but InStyle puts nearly 3,500 of the very best of them a couple of mouse-clicks away
(PRWEB) September 6, 2006
The flight is booked and the car is rented. Time to choose a hotel. Instead of any old hotel, boutique or luxury hotels are now offered online. A new Web site, InStyle Hotels (http://www.instylehotels.com)], offers a huge database of bookable luxury hotels including design and boutique hotels.
"Our clients can search, choose and book rooms safely and securely at the best possible rates," says Alex Brey, CEO of InStyle Hotels. "And to help with that choice, InStyle Hotels is about to establish its own independent hotels rating – based on established research as well as the experience of its own experts and customers."
"Our clients are those looking for the unusual, unique and special. We want to give them the experience of a lifetime," says Brey.
Finding the perfect hotel sounds as difficult as searching for the Holy Grail. Occupancy rates in the United States are back to pre-9/11 levels and are expected to reach all-time highs of 72.6 percent or 3.3 million rooms this summer, with average room revenues continuing to grow at a rapid 8.2 percent per year. Moreover, hotel revenues are forecasted to grow by another 4.9 percent in 2007, thanks to strong demand and an even tighter supply of good hotels.
With an ever-increasing number of online hotel booking services, consumers need clear, objective and independent information.
That's where the new Web site InStyle Hotels makes life a breeze for the traveler with taste. Using extensive research based on many of the travel industry's accepted Top Hotel lists, InStyle Hotels' team has selected the places recognized by the majority of Hotel Ratings as being the summer 2006 leaders.
InStyle Hotels analyzed the hotel ratings of summer 2006 by studying the major service providers, including Travel + Leisure and Condé Nast Traveler. The results turned out to be a bit surprising due to great dissonance among the services' opinions. The Top Hotels lists showed differing points of view in their estimation of hotels, despite using similar criteria. However, InStyle Hotels has identified some leaders.
The hotels and resorts distinguished by online ratings include:
Europe:
Château de Crayères (Reims, France)
Hotel Sezz (Paris, France)
Four Seasons Hotel George V (Paris, France)
Grand-Hôtel du Cap-Ferrat (Cote D'Azur, France)
The Ritz (London, England)
Brown's Hotel (London, England)
Malmaison (Oxford, England)
Byblos Art Hotel – Villa Amista (Verona, Italy)
Hotel Caruso Ravello (Ravello, Italy)
Lux 11 (Berlin, Germany)
Kruisherenhotel (Maastricht, Netherlands)
Bairro Alto Hotel (Lisbon, Portugal)
Hospes Palacio de los Platos (Granada, Spain)
Hotel Puerta América (Madrid, Spain)
Sumahan on the Water (Istanbul, Turkey)
The G (Galway, Ireland).
Asia:
Four Seasons Resort at Sayan (Bali, Indonesia)
Ritz-Carlton (Bali, Indonesia)
Amandari (Bali, Indonesia)
Amankila (Bali, Indonesia)
Lunuganga (Bentota, Sri Lanka)
New Majestic Hotel (Singapore)
One and Only at Reethy Rah (Maldives)
Oberoi Rajvilas (Jaipur, India)
The Pininsula Hong Kong (Hong Kong, China)
Hotels of the Mandarin Oriental Hotel Group.
Africa:
Singita (Kruger National Park Area, South Africa)
Hemingway Lodge (Cape Town, South Africa)
Mala Mala Game Reserve (Northlands, South Africa)
Mexico and Latin America:
La Casa Que Canta (Zihuatanejo, Mexico)
Las Mananitas (Cuernavaca, Mexico)
Las Ventanas al Paraiso (Baja, Mexico)
Hotel Monasterio (Cruzco, Peru)
Cavas Wine Lodge (Lujan de Cuyo, Argentina)
Australia:
Lizard Island (Great Barrier Reef)
The Observatory Hotel (Sydney)
United States:
Rusty Parrot Lodge & Spa (Jackson Hole, Wyoming)
Peninsula New York, The Point (New York)
St. Regis (San Francisco)
Standard Miami (Miami)
Arizona Inn (Tucson, Arizona)
Bellagio (Las Vegas)
Blackberry Farm (Walland, Tennessee)
Charleston Place (Charleston, South Carolina)
Fairmont Kea Lani (Maui, Hawaii),
Four Seasons Resort Hualalai (Big Island, Hawaii)
The Little Nell (Aspen, Colorado)
According to Travel + Leisure ratings, the Indonesian Four Seasons Resort at Sayan was the best-of-the-best summer 2006 hotel with 95.00 points.
"Finding the perfect hotel is becoming more difficult, but InStyle puts nearly 3,500 of the very best of them a couple of mouse-clicks away," says Brey. "It may be that the client already travels far and wide for business and doesn't want a corporate-style hotel. It's his time off and he wants to experience something different – perhaps the Halekulani or 'House Befitting Heaven' across five acres of Waikiki beachfront, or the Samode Haveli, the former city love-nest of the Maharajas in India's Jaipur."
For more information about InStyle Hotels and their database of bookable design, boutique and luxury hotels, please contact:
Andrew Moreton – Director of Public Relations
Tel: +442084270518 (UK)
###