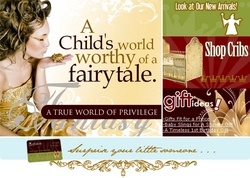 The LilSophisticate.com tag line says it all
Flat Rock, NC (PRWEB) October 16, 2008
The newly launched upscale online retail boutique, LilSophisticate.com, a division of the niche market specialist, SophistaStyle, LLC, opened its doors to online shoppers this week just prior to what many retailers consider the start of the holiday shopping season.
"The LilSophisticate.com tag line says it all," Lacie Trujillo, SophistaStyle Co-Owner, said. "We are all about 'Pint Size Luxury.'"
"We have the most stunning boutique style products for children that you just can't find in regular shopping venues and malls," Trujillo said. "And we feel strongly the luxury market will continue to flourish, especially, this holiday season."
SophistaStyle Co-Owner Monica Hall, agreed but added that not only are the products unique and fun but the shopping experience on LilSophisticate.com is unlike any other online shopping experience. "When you are on the site, you just don't want to leave," she said. "You want to keep browsing because it's so beautiful and feels very luxurious."
With products like fairy tale luxury playhouses that rival Cinderella's castle, Hall and Trujillo both say that once the inspiration hit for the online boutique, they simply ran with it and everything fell into place. The result? An unparalleled product offering that includes custom built and one-of-a-kind luxury items for kids. "There simply isn't anything out there like this, Hall said. "You really do have to see it to believe it."
This mother-daughter team is dedicated to sourcing items that have a certain appeal to parents and grandparents who want only the best for their children. Items that appeal to the sense of touch, like children's bedding that has only the highest of thread counts and feels like silk and envelops a child in warmth as well as items that appeal to the sense of wealth, prestige and royalty like the Diamond Encrusted Pacifier or the Swarovski Crystal Palace Pacifier Set…these all carry the "wow factor" and that, Trujillo says, is what really pulls people in.
Boutique shopping is unlike regular shopping, according to Trujillo. "Shoppers expect a certain type of product that can't be found just anywhere. And, there has to be an emotional connection with the whole experience of shopping in a boutique."
"Our goal is to provide customers with an experience that is personal to them and they can rest assured knowing that they are getting the exceptional service and attention to their needs," Hall said. "We've added some really special touches and promotions that give shoppers the ability to interact with us."
The "kid quote" contest, for example, gives online shoppers the ability to enter short quotes that they remember their children saying that are profound, funny or cute. The quotes are displayed on the site and the winner receives a very generous $500 gift card to shop on LilSophiticate.com.
Hall and Trujillo agreed that all shoppers are welcome at LilSophisticate.com regardless of income level. "Worst case scenario is that you'll get great design ideas," Hall said. "But I bet you'll find something you just can't live without."
For more information, please contact, Lacie Trujillo, Co-Owner, at 1.888.673.0070, via email at info@lilsophisticate.com or visit us online at LilSophisticate.com. All products are available for purchase and high resolution product images are available upon request.
LilSophisticate.com is a division of SophistaStyle, LLC and protected under trademark and copyright laws. Owned and operated by mother-daughter team, Monica Hall and Lacie Trujillo, SophistaStyle, LLC is located in Flat Rock, North Carolina.
Contact:
Sonya Neblett, public relations and marketing
TrulyTwistedMarketing
828-551-9517
###