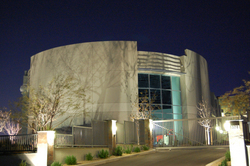 Las Vegas, Nevada (PRWEB) May 5, 2008
Assiter Auctioneers is proud to announce the auction of a custom-designed luxury Las Vegas home. The auction will take place on Friday, June 6 at 1 p.m. Pacific time, with an opening bid of $500,000. Live Internet bidding will be available for the home auction, as well as for the auction of various automobilia.
The 9,500-square-foot industrial grade home contains commercial labor and materials throughout, featuring an abundance of structural steel, concrete, granite, one-inch high performance glass and frameless glass interior doors. The home features a custom-lit, two-story, 6,500-square-foot garage and viewing mezzanine, perfect for car collector connoisseurs. Thermostat-controlled with indirect evaporate cooling and an adjacent workshop with motor coach services, the space was designed to preserve and showcase the most discriminating automobile or prized collection, but allows for flexibility for a multitude of uses. This luxury Las Vegas home is situated on two-plus prime acres set against a backdrop of valley and mountain views. The outdoor space can be used for a pool, cabana and other recreational amenities.
Unique design features can be found throughout, including a home theatre, spa master bath, sprinkler system, granite staircase, glass floor bridge and stainless steel elevator. The home also includes a gourmet kitchen designed by a prominent Las Vegas chef. A hidden spiral staircase leads to an authentic wine cellar with private dining area.
The homeowner and guests can also dine outdoors in the home's rooftop garden. Equipped with a full kitchen and bar, a fire pit, grill and hot tub, the rooftop garden -- accessible via a curved glass ascension -- is the perfect place to entertain.
This one-of-a-kind luxury home is located at 320 East Paradise Hills Drive, Henderson, Nevada. Open house showings will take place on Sunday, May 18; Sunday, May 25 and Sunday, June 1 from 1-3 p.m.
For more information about the June 6 auction of this luxury Las Vegas home or for information about the live Internet bidding available, please visit http://www.assiter.com/auction_detail.php?ID=381444.
# # #