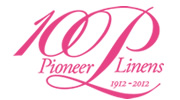 Each purchase of $50 will provide shoppers with a make-up towel as a gift-with-purchase.
WEST PALM BEACH, FL (PRWEB) November 27, 2014
Discounts will apply to Lands Down Under throws and hangers, Blue Loops bed linens and towels, Argento bed linens, Aurora towels, Portofino and Vento coverlets, the Peacock Alley collection, Haute Home collection, Down Right collection, Gillucci Guest Tips, Yves Delorme collection and Matouk collection merchandise, plus card table covers, waffle bath robes and lounge chair covers.
An additional e-commerce benefit will be offered to Pioneer Linens' online customers on Monday December 1, 2014. All online shoppers will receive a 20% discount on all merchandise purchased on the company's web site.
In addition to saving on the web site, online visitors can sign up for news, special exclusive offers and invitations, request a catalog and read the corporate blog. It's also easy to join in on the conversations on Facebook http://facebook.com/pioneerlinens and Twitter http://twitter.com/pioneerlinens, as well.
"It's time to start the holiday shopping season off on the right foot, for our valued clients and our business," said Penny Murphy, owner of Pioneer Linens. "We're delighted to be able to celebrate the uniqueness, charm and economic impact that we bring to the West Palm Beach community right alongside with its members."
Small Business Saturday, conceived and promoted by American Express, dates back to 2010. Now in its fifth year, the event that encourages holiday shoppers to buy local has become a holiday tradition. Each year, consumers showed an increase in their spending. A survey conducted on behalf of the National Federation of Independent Businesses and American Express identified that $5.7 billion was spent in 2013.
Pioneer Linens can attest to the fact that Thanksgiving, Black Friday, Small Business Saturday and Cyber Monday impact business' bottom line: In 2013, their average daily order volume increased by more than 500 percent between Thanksgiving and Cyber Monday.
Pioneer Linens has been a local mainstay for home décor, mattresses and bedding since 1912. That's 102 years of superior products and service provided by one family, from Max Greenberg to his son, George, to George's daughter Penny and Penny's two daughters and son. They represent the fourth generation of the founding family involved in the business.
Among the merchandise available at Pioneer Linens: designer bedding, including bed ensembles, duvet covers, coverlets and blanket covers, bedding essentials like down comforters and pillows, bathroom accessories, vanity seats, stools and accessories; bath indulgences, including soaps and body care products, as well as items for the kitchen.
Pioneer Linens is located at 210 Clematis Street in West Palm Beach, Florida. The toll-free phone number is 1-800-207-LINENS; local calls can be made to 561-655-8553.