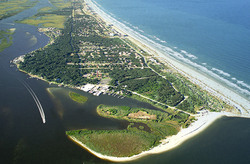 other developers followed suit, and hundreds more gopher tortoises have been rescued
Ponce Inlet, FL (PRWEB) December 1, 2007
Prospects are better for future generations of the Florida gopher tortoise, a threatened species facing the risk of extinction, thanks to the actions of Cranewoods Development, the first Florida real estate developer to abandon the State required "pay-and-bury" permit, and instead opt to use the new community relocation policy.
Florida state regulations in force at the time Cranewoods' project, The Cottages at Ponce Inlet, began construction, required developers to obtain "pay-and-bury" permits that allowed gopher tortoises to be crushed and buried alive. Cranewoods chose to make an additional investment in saving the threatened species.
Using the new relocation program, project builder HCM Construction worked with community volunteers and the Humane Society Of The United States to relocate the tortoises to Nokuse Plantation, a 50,000-acre conservation wilderness. The tortoises saved at The Cottages of Ponce Inlet site, validated the feasibility of the new program by not only acclimating, but in the surest sign of success by reproducing a new generation of gopher tortoises.
According to the Humane Society "other developers followed suit, and hundreds more gopher tortoises have been rescued".
For its compassionate choice to save the gopher tortoises, the Florida real estate developer and builder has been honored with a commendation from the Humane Society of the United States. Awards of appreciation were presented November 14, 2007, at the Town of Ponce Inlet Town Council meeting to Cranewoods Development manager Andrew Howe, volunteer Carissa Kent, the Town of Ponce Inlet and Nokuse Plantation.
"We applaud HCM Construction for calling us in and encourage other developers to relocate rather than plow over those tortoises currently calling these sites home," said Jennifer Hobgood, southeastern regional coordinator for the Humane Society of the United States.
According to Howe, the company's decision to invest in the relocation was aligned with its selection of the site for its Florida oceanfront luxury homes. "Ponce Inlet's most important assets are its natural resources, from its truly unspoiled Florida beaches and inland waterways to its wildlife," he said. "It's a beautiful place to live, and the people of Ponce Inlet have made it a priority to preserve that beauty." Ponce Inlet community members were instrumental in the gopher tortoise rescue effort, helping care for the animals and assisting in the excavation.
While Florida's government grandfathered existing "pay-and-bury" permits that allow destruction of the tortoises, hundreds more have been rescued by several developers who have followed the example of environmental stewardship set by the Town of Ponce Inlet and Cranewoods Development, who set an invaluable precedent that will impact the survival of a threatened species for generations to come.
About Cranewoods Development
Andrew Howe, president of Cranewoods Development, is an award winning developer, general contractor and real estate consultant with over 35 years experience. Cranewoods offers full service real estate consulting to lenders and investors. Services include: development consulting, bank loan workout solutions, court appointed receiver, turn-key development management, construction management and general project problem solving. To explore Cranewoods further, visit: http://cranewoods.com or follow them on Facebook at http://facebook.com/cranewoodsdevelopment
Jacksonville, FL | Cincinnati, OH.
513-257-0749 | 904-758-3434
###