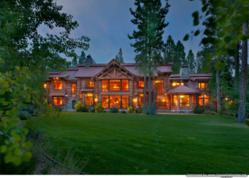 I would like to thank Luxury Real Estate for honoring us with this prestigious award.
Orlando, FL (PRWEB) October 18, 2012
The 17th Annual Luxury Real Estate Conference held at the Fairmont Princess Resort in Scottsdale, Arizona, was attended by the most highly regarded Real Estate Agents, Brokers and Vacation Rental experts in the industry.
Private Trade Winds' Marketing Director and Asset Manager Judy Sweetland accepted the award on the Company's behalf, and Irene Aviles, Founder and President of Private Trade Winds received an exuberant call with the exciting news. "I would like to thank Luxury Real Estate for honoring us with this prestigious award, and I would also like to thank our dedicated team that works tirelessly to scout out and vet quality villa product, like this luxury ranch estate. " Aviles said.
Private Trade Winds, Inc., a supplier of Five-Star Villa Vacations, selected the 6-bedroom, 10,000 square foot luxury ranch estate from their global portfolio to represent the quality villa product the Company has become known for. The year-round ranch estate, located in the Northern Sierra Nevada Mountain Range of California, sleeps 21, and includes 38 onsite activities, guided tours, meal plans and onsite staff. Private Trade Winds enrolled clients receive a branded experience, daily housekeeping, high-end amenities, and complete travel and concierge service at 20-50% below market price.
Private Trade Winds, Inc. is located in Newport Beach, California and is currently celebrating their five-year anniversary with a newly energized global portfolio. The Company sells directly to the Consumer, and enjoys partnering with industry professionals. Private Trade Winds is a philanthropic company embracing local and national charitable causes. To learn more about Private Trade Winds contact Judy Sweetland at jsweetland (at) privatetradewinds (dot) com.
###
Contact:
Steve Luba
PerspectivePR for Perspective Group
Ph: 407-217-5372