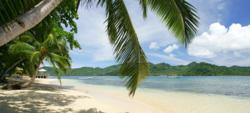 Chicago, IL (PRWEB) October 03, 2012
Down Under Endeavours (DUE), a premiere luxury travel agency with expertise in the Fiji Islands, announces a new Fijian luxury vacation package upgrade at an unbelievable deal. From November 2012 to March 2013, Travelers have an affordable opportunity to enjoy Matangi Island Resort, the world's most unique, secluded beach resort in the South Pacific islands. Lush rainforest, lonely beaches and a luxury island resort awaits those who take advantage of Down Under Endeavours newest deal.
Known for their high-end resorts and private beaches, this new luxury vacation package upgrade is tailored to couples of all budgets seeking a secluded romantic getaway in the tropics. Corinne Goodman, President of DUE stated she has never seen such great value in her 13 years of business.
Matangi Private Island is a unique horseshoe-shaped island paradise located in the lush tropical northern part of the Fiji Islands. The island boasts a virgin tropical rainforest and white sand beaches. It is no surprise that Matangi Island was voted in ISLANDS Magazine as one of the "Top 10 Private Islands in the World" and also featured in Patricia Schultz's book, "1,000 Places to See before You Die."
Recently, Matangi was listed in Conde Nast Traveler as one of the top five most romantic resorts in all of Fiji, and December 2011 issue of Brides Magazine claimed they are one of the three "must-see" spots in Fiji as well.
Down Under Endeavours along with Matangi Private Island Resort is excited to offer the free upgrade of the Beachfront bure at the Ocean view bure rates confirmed at the time of booking and equaling USD $600 savings. In addition, the resort is offering more value of 2 free nights for every 5 nights booked including 2 days of free meals and activities; offering more value to travelers.
Matangi offers 10 traditional Fijian designed bures and 3 unique tree houses each with air-conditioning, iPod docking stations, an outdoor stone shower, large sitting area, fully stocked mini bar and all the amenities of a luxury resort. The island caters to adults only. Rates include all meals and some activities including non-motorized water sports.
For more information contact the destination specialists at Down Under Endeavours by calling 312-951-8517 or visiting their website at http://www.downunderendeavours.com
About Down Under Endeavours
Down Under Endeavours is a travel industry wholesaler dedicated to booking travelers once-in-a-lifetime experiences. With special contracts between luxury properties, airlines and local tour groups in Australia, New Zealand, Fiji, Tahiti and Africa, the destination specialists at Down Under Endeavours create custom vacation packages tailored to traveler's interests and imaginations. Exceeding expectations is what they specialize in and they go above and beyond adding extras to make a vacation truly special for those who wish to travel half way around the world to find the unexpected. Travelers can rest assured they know what they're getting into as every destination, airline and tour is tested personally by the employees first at Down Under Endeavours.