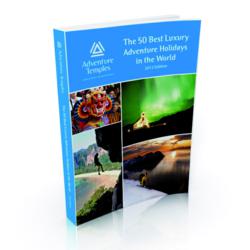 A one-stop shop for expanding your horizons, upgrading your aspirations and stretching your senses.

Simon Calder - The Independent
(PRWEB UK) 16 November 2011
Buying this spectacular coffee-table style book is the first step towards a truly unforgettable Luxury Adventure Holiday. A perfect gift for the discerning traveller, but also for the desk dreamer: who wishes they took the kind of exciting, luxurious adventure trips that they read about in newspapers and magazines but feels tight on time or concerned about making the wrong choice. This book not only shows them how they can get up and go for it, but even makes it easy.
Noone will fail to be inspired by the stunning photography and crisp insightful descriptions of each region and activity. This is so much more than just a list of places to go. The author Rob Pendleton and the AdventureTemples community of 'Luxplorers' have shared their knowledge to capture how it feels to be in the place, what the best things to do are and how to personalise the experience, to make it perfect.
This is a guidebook to suit all tastes. Just like the Luxury Holidays within it. AdventureTemples understand that great holidays are about blending a range of needs and desires - both your own and your travel partner's - to create the perfect 'experience'. All the locations listed in this book have a fantastic range of stimulating activities for body, mind and spirit. What is unique about AdventureTemples is that every single lodge, hotel or manor house is hand picked because they offer BOTH a great range of amazing experiences AND the highest levels of luxury available: proving there is no need to compromise on style and comfort, while being intrepid.
Unlike most books in this genre, AdventureTemples don't pretend readers are going to step off a plane and do the deepest scuba dive, or climb the highest rock face with limited preparation. They instead reveal where to find 50 of the world's most magical and accessible luxury adventures, which beckon the whole family out to explore and discover, whilst keeping them safe and continuously inspired.
Take someone on a journey they will never forget. Present them with a copy of AdventureTemples guidebook, 'The 50 Best Luxury Adventure Holidays in the World - 2012 Edition', this Christmas.
'The 50 Best Luxury Adventure Holidays in the World' 2012 Edition (ISBN 978-0956989406) is available to buy at AdventureTemples.com.
###