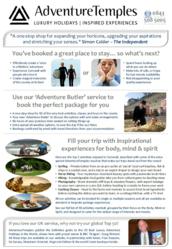 "A one stop shop for expanding your horizons, upgrading your aspirations and stretching your senses."
Simon Calder - The Independent
(PRWEB UK) 30 April 2012
AdventureTemples will launch a new 'Adventure Butler' service in May 2012, offering over 90 activities and experiences, designed to make a good holiday, great. They are proud to be working in partnership with leading luxury holiday companies Unique Home Stays and Blue Chip Holidays, alongside other boutique luxury accommodation providers, across the South West.
The AdventureTemples Butlers deliver a unique personal concierge service, offering guests a one-stop-shop for all their activity booking needs. Surfing, wild food foraging, yoga, flower pressing: there is something to suit all tastes and ages, whatever the weather. On booking a luxury cottage, apartment or room, guests receive an AdventureTemples 'Experiences Menu', giving them the opportunity to choose amazing, exclusive, tailor-made activities, for body, mind and spirit.
Steve Kessell, from VisitCornwall, said: "I am thrilled AdventureTemples have decided to launch their unique service in Cornwall; it helps both the busy B&B, hotel and holiday home owners provide more for their guests and increases business for the hundreds of passionate activity service providers who showcase the best of our region, making Cornwall such a fantastic place to take a holiday."
This 'Adventure Butler Service' will be available in 500, five and four star locations in Cornwall this Spring/Summer season, and, is set to expand to cover over 500 more, in Devon and Dorset, by the summer of 2013. So, come rain or shine, there are no excuses: luxury holidays in the UK can be packed full of inspirational experiences, by your very own 'Adventure Butler'.