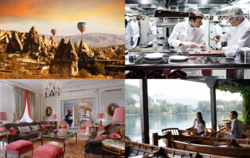 "A one-stop shop for expanding your horizons, upgrading your aspirations and stretching your senses."

Simon Calder - The Independent
(PRWEB UK) 31 January 2012
AdventureTemples, the luxury adventure travel operator, launches a free, bespoke, Honeymoon Gift List service at the UK Wedding Show, Excel, London, this weekend (4/5 Feb). The company believes that a honeymoon should be filled with unforgettable once-in-a-lifetime experiences, and expert 'Luxplorer', Rob Pendleton, is the man to help couples plan their dream trip.
Many honeymoon gift services simply invite guests to contribute money towards the overall cost of the trip, or provide commodities such as spa treatments or champagne on arrival. AdventureTemples however, offer guests more: the opportunity to bestow truly memorable adventures and experiences (from hot air balloon rides over the Serengeti, to private Gorilla treks, or white water rafting the Nile), shaped in consultation with the company's founder.
Each couple is given their own web page under the AdventureTemples umbrella, that they can have personalised with special messages to friends and family. They use expert guidance to choose their destination and uncover the activities they would most like to enjoy on the trip. With prices ranging from £10 to £1000, and easy payment via PayPal, there is something for all budgets and tastes.
"I have created the service I wish existed when I got married," says CEO Rob Pendleton, who took a 36 country, 366-day honeymoon around the world. "I want to help all couples have an extraordinary honeymoon, one that sets them on the road to an exciting, adventurous life together and one that they will one day be able to tell their grandchildren about. Every couple wants the VIP treatment on their honeymoon and, at AdventureTemples, we believe that should start from the minute they write their wish-list."
AdventureTemples is a new Luxury Adventure Holiday company, which launched in October 2011 and features tailor-made trips from luxury bases that are designed to stimulate the mind, body and spirit. It produces a beautifully illustrated guidebook entitled 'The 50 Best Luxury Adventure Holidays in the World' - 2012 Edition, with each trip hand-selected by an online community of experts and enthusiasts. All the winning holidays are bookable through the company. AdventureTemples have a proven record of providing indelible honeymoons, as can be seen in this review by recent customers Andrew and Carrie Burland.
# # #