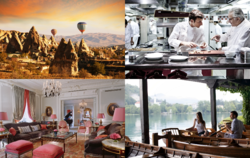 "A one-stop shop for expanding your horizons, upgrading your aspirations and stretching your senses."
Simon Calder - The Independent
(PRWEB UK) 19 December 2011
CEO Rob Pendleton, from new luxury adventure holiday company AdventureTemples, has a message of support for busy husbands, wives and partners everywhere: "With the economic uncertainty, it has probably crossed your mind that you might be able to get away with no present at all this Christmas. But the time approaches and you start to worry about appearing ungenerous. So what do you do? Time for a classic play from parents everywhere with children born in Dec or Jan. The two-for-one present!"
He continues, "To get away with it, you have to choose a holiday that you wanted to take anyway, but which can be dressed up as all about THEM! But that isnt quite enough - you need something to hand over on the day. Well, we can help with all of that. Firstly, order our guidebook 'The 50 Best Luxury Adventure Holidays in the World'- 2012 Edition - so you have something special to put under the tree. In case you've left it really late, we'll send a personalised letter (from me, the CEO) and a link to the e-version of the book, while the post office are working their magic. You can book in a 3-way consultation with me, or one of my experienced team, about the perfect trip for you. Or choose your favourite trip from the book over the holidays for us to custom tailor to your exact requirements."
Sounds great, but what sort of trips can prospective present-buyers present? Well, here are three examples of a one-week package, from the guidebook, to suit £2000, £5000 and £10000 budgets*:
From £2,000 - Languorous Lakes, Slovenia
What it is like: Bled is a stunning mix of old and new, active and laid back charm. Enjoy the beautiful alpine landscape, exceptional hospitality, modern facilities and old fashioned refinement. Guests stay at the 5* Grand Hotel Toplice, a 1930's icon set on Lake Bled then at 5* Kendov Dvorec, a 14th century riverside Manor house in nearby Idrija, to explore the surrounding hills and caves and celebrate heart-warming Slovenian cuisine.
Want to be Active: Go mountain biking, rock climbing, rafting, kayaking, hydro-speeding, horse riding, golfing, paragliding, hunting, fishing or cave trekking.
Want to Relax: Try lake swimming, boat tripping, hot-air ballooning, wine tasting, the spa, cultural visits or a cooking-class.
From £5,000 - Captivating Cappadocia, Turkey
What it is like: The rock fairy chimneys and carved temples of Cappadocia are magical. Explore the unique landscape on foot, horseback or gliding through the air. Take refuge from the sun in your own private cave pool at 5* Argos in Cappadocia, or enjoy the peace and quiet of a stylish suite carved into the rocks at the 5* Anatolian Houses. Istanbul's rich heritage and frenetic atmosphere provides a fascinating contrast, with buzzy night markets and belly dancing available, close to the 5* luxury of Four Seasons Hotel Istanbul at the Bosphorous.
Want to be Active: Go trekking, horse-riding, rafting, climbing and belly-dancing.
Want to Relax: Try hot air ballooning, spa, historical site visits or nature walks.
From £10,000 - Font of Knowledge, France
What it is like: The elegant grounds and ancient forests of the Chateau de Fontainebleau, just an hour outside Paris, are perfect for an exciting, yet refined, adventure. Horse-ride through the castle gardens in the morning mist, watch sunlight glint through the trees while cycling the forest paths, or try the world's best rock climbing boulders. After active days in the country, from charming huntsman's lodge Bas-Bréau, 5* Plaza Athenée Paris feels like pure decadence. Frequented by royalty, film stars and famous divas and featured in Sex in the City, this is the place to beautify, Parisian style, at the Dior Spa. Indulge in the hotel's 3-Michelin-star, Alain Ducasse restaurant, and even learn secrets from the master himself, at his École de Cuisine.
Want to be Active: Go bouldering, mountain-biking, horse-riding, hiking, hunting or fishing.
Want to Relax: Enjoy fine arts, art classes, historical monuments, cookery, shopping, spa or wine tasting.
Rob says: "Whatever your partner is into, an AdventureTemples luxury adventure holiday will be so packed with unforgettable experiences that they are sure to think you booked it all just for them. So dont waste your money on trinkets soon forgotten. Book yourself - I mean 'your partner' - an AdventureTemples holiday for Christmas."
*Each package is tailor-made to suit clients personal requirements, these are guideline budgets and are subject to availability.
###