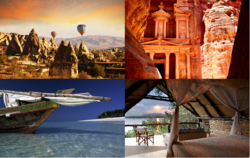 "A one-stop shop for expanding your horizons, upgrading your aspirations and stretching your senses."

Simon Calder - The Independent
(PRWEB UK) 29 November 2011
Getting fed up of the cold, wet weather and need to get away from it all? Well, the luxury adventure holiday experts AdventureTemples think they can solve the problem with one of 3 perfect 'winter warmers' lasting a Weekend, a Week and a Little Longer. Each trip combines luxury and adventure, proving you don't have to compromise on comfort and style to be intrepid.
Got A Weekend? - Be Petra-fried!
Jordan offers visitors an exciting combination of history, culture, stunning environment and surprising modernity. The last of these means that it really has become 'doable' as a luxury adventure weekender. Choose a beautiful natural setting from the 5* Evason Ma'In, beside thermal waterfalls, or the 5* Kempinski Ishtar, right on the shores of the Dead Sea. Then, take your pick from mudpacks and salt baths, ancient temples and souk art, or a 4x4 to the desert for camel or mountain bike rides. Leave the tour groups behind by exploring Petra at sunrise or sunset and finish each day with a traditional feast under the stars. This perfectly formed weekend of activities and rejuvenation comes from £545pp (based on 2 sharing accommodation on a B&B basis, with international flights).
Got A Week? - Get a Cappa-chino!
With natural scenery unlike anywhere on earth, the 'fairy chimneys' of Cappadocia offer a breathtaking backdrop for a captivating week of luxury adventure. Choose from 5* Anatolian Houses, beautifully carved cave suites, adorned with local art, or, 5* Argos in Cappadocia, where suites have private underground pools: a luxuriant way to cool off after a trek or horse ride. There are lots of activities to try, but the best way to start has to be with a hot air balloon flight across the idyllic landscape. Prices for the week start from £1695pp including a night in the stunning 5* Four Seasons Hotel Istanbul at the Bosphorus (based on 2 sharing accommodation on a B&B basis, with international and domestic flights).
Got A Little Longer? - Go on a Zanzi-barefoot Safari!
If Robinson Crusoe had been a 'Luxplorer', he would have made 5* Mnemba Private Island Lodge, just off Zanzibar, his home. The sand and sea of this exclusive barefoot paradise is a veritable adventure playground. Take a scuba trip to explore intricate corals alongside sea turtles and playful dolphins. Fish, kayak, go bird watching, sail or windsurf, and then enjoy the relaxing natural spa treatments. AdventureTemples holidays don't just stimulate the body; they also inspire the mind and rejuvenate the spirit. Absorb Zanzibar's colourful history, diversity and rich culture, around the ancient spice markets of vibrant Stone Town. Then, when you have had your fill of island life, let them whisk you off to be at one with the lions, deep in the Selous Game Reserves, at 5* Sand Rivers. Dine on the river banks and rise early to see magnificent wildlife on a walking safari, up close and personal. Selous is very exclusive; perfect for leaving the world behind; and sure to inspire the budding wildlife photographer and ecologist in you. A 10 day version of this ultra-luxury adventure starts from £7995pp (based on 2 sharing accommodation on an all-inclusive basis, with international and domestic flights and a huge range of activities and experiences included).
All three of these incredible trips feature in AdventureTemples definitive coffee-table style guidebook 'The 50 Best Luxury Adventure Holidays in the World' 2012 Edition - available from http://www.AdventureTemples.com.
###