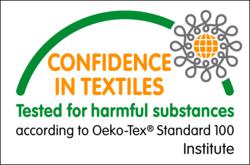 Corporate responsibility is paramount when the health of the consumer is an issue.
(PRWEB) April 28, 2013
Mr. Shron, the president of Luxury Bamboo Bedding, believes "corporate responsibility is paramount when the health of the consumer is an issue." The company's newly certified hypoallergenic products address this key concern, helping to alleviate severe allergies that plague many consumers.
Allergy, for some people, is no laughing matter. Some consumers are severely allergic to textiles or trace chemicals often found in textiles. Corporate claims about the hypo-allergenicity of bamboo bedding cannot be made lightly; as such, Luxury Bamboo Bedding has extensively done its due diligence to ensure the safety of its bamboo bedding and bath products.
Mr. Shron commented that "We had to ensure that our claims about the absence of trace chemicals were valid. Apart from issues of trace chemicals, we were aware that the smooth, non-abrasive nature of our bamboo sheets and pillow cases was a good thing for people with sensitive skin. If one's face is in contact with a pillow case for a period of six to eight hours, clearly the silky-soft smoothness of bamboo fabric would reduce the chance of skin irritation."
The New Zealand Dermatological Society (http://dermnetnz.org/dermatitis/formaldehyde-allergy.html) in their article about formaldehyde sensitivity, described formaldehyde as a potent primary irritant as well as a sensitizer for people prone to allergies. Formaldehyde is widely used in the textile industry for wrinkle resistance and mildew resistance of finished fabric (other uses are outlined at the above URL) and has been implicated as a causative agent in allergies to apparel and bedding.
The solution at Luxury Bamboo Bedding was to pursue an Oeko-Tex Standard 100 certification. Mr. Shron explained that "By testing the finished product, we were able to verify that we were not being "bamboozled" by our source of supply (who we have trusted since 2002) and that our bamboo sheets and pillow cases were effectively chemical-free".
For those interested, the Oeko-Tex Standard 100 certification has earned the respect of the textile community. It is perceived as a legitimate benchmark that ensures that textiles are chemical free and safe for the consumer.
Luxury Bamboo Bedding tested its 320, 350 and 500 thread count bamboo sheets to ensure that pH was normal and the following trace chemicals were absent:

Formaldehyde
Pesticides
Extract-able heavy metals
Chlorinated organic carriers and preservatives such as pentachlorophenol and tetrachlorophenol
Nonylphenol ethoxylates (NPEOs), nonylphenol (NP), and related chemicals
Allergy-inducing dyestuffs
Carcinogenic amines found in azo dyestuffs.
As long as the consumer is not allergic to cellulose (which is what bamboo fiber is made of), skin sensitivity will not be an issue if the bamboo bedding has an Oeko-Tex Standard 100 certification.
One impressive testimonial comes from customer Debby G:
"I was recently diagnosed with contact dermatitis, psoriasis and eczema. My skin disorder has forced me to take short-term disability, so you know my skin is extremely sensitive. Some of my allergies include formaldehyde, textile/dyes, and lanolin. My dermatologist suggested that I wear or touch only white or natural fabrics that are 100% silk, cotton or bamboo. I researched many bed linen companies and received 5 bamboo fabric samples. In addition, I order bamboo pillow cases from Luxury Bamboo Bedding and they were so soft that they almost slid out of its bamboo drawstring bag. These pillowcases trumped every sample I received. I washed them (as directed) and used them right away. The next morning I called some of my close friends, relatives and prayer partners to tell them about my experience. Then I placed my phone order with Van. He was very knowledgeable and excelled in customer service. I can't wait for my King 320 thread count sheets to arrive and allow me to get some rest. I plan to buy at least 2 more sets this year: one to give away and another set for me! I would highly recommend that you buy these bamboo sheets."
Mr. Shron says, "Our customers can use our bamboo sheets in confidence, knowing that every precaution has been taken to ensure their comfort and safety. That being said, it is still good practice to wash all new bedding and apparel before first use."
About Luxury Bamboo Bedding:
The concept of Luxury Bamboo Bedding began in 2004 when Mr. Shron and his associate discovered bamboo fabric in a remote area of China. Mr. Shron's company Onedin Sportswear was the first and only company in North America to get certification from Bodycote (currently Exova), a respected international testing facility that Onedin's bamboo fiber was in fact made from bamboo plant tissue. For more information please contact Van Shron at customerservice(at)luxurybamboobedding(dot)com.