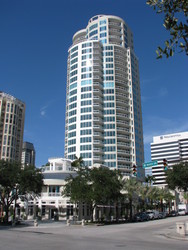 The next step is to make the final preparations for the people who will soon call Ovation home
St. Petersburg, Fla. (Vocus) September 9, 2009
Ovation , downtown St. Petersburg's newest luxury waterfront community, was officially awarded its Certificate of Occupancy (CO) by the city's building official today.
The CO declares the 27-story Ovation tower safe to occupy, following a rigorous six-week inspection of the building, according to project manager Steve Coppins.
"The next step is to make the final preparations for the people who will soon call Ovation home," said Coppins, "While we're definitely celebrating the CO, we'll still be nose-to-grindstone until every detail is complete."
Located on prestigious Beach Drive and 2nd Avenue NE overlooking downtown St. Petersburg's waterfront, Ovation is JMC Communities ' twelfth condominium development in Pinellas County. An award-winning St. Petersburg-based developer with a 30-year history specializing in luxurious waterfront communities and more than 4,000 completed condominium homes, JMC broke ground on Ovation in February of 2007.
"It's exciting for us--and for the residents preparing to move in--to see the original vision for Ovation come to life," said Mike Cheezem, chief executive officer of JMC Communities. "We set out two and half years ago to design and build the finest residential tower in the Tampa Bay area, inside and out, with high-quality, highly customized homes that are personalized for each buyer. Following years of meticulous preparations, that vision is now a reality."
Ovation offers 45 estate-sized residences: two per floor on most levels and four complete floor penthouses, each with 180 or 360 degree views of downtown St. Petersburg and Tampa Bay. The project also includes three city homes. Floor plans ranging from 2,374 to 5,329 square feet and prices start at $1.2 million.
Sixty percent of its residences have been sold to date.
Additionally, 17,800 square feet of street-level retail space on Ovation's ground floor will enhance the Beach Drive shopping experience. Earlier this month, two retailers--Bernie's & Son Jewelry and Mindy Solomon Gallery --announced that they would be the first to occupy part of the space.
Founded by J. Michael Cheezem in 1978, St. Petersburg-based JMC Communities is recognized as one of the top multi-family community developers in Florida. With a strong reputation for innovation, integrity and quality, JMC is committed to enriching the lives of its residents through exceptional living environments by developing communities that provide peace of mind, comfort and enduring pride of ownership. JMC is committed to providing unsurpassed value at a high level of quality from site acquisition to property management.
JMC has built over 4,000 quality condominium homes. Projects include Minorca and Seacrest in New Smyrna Beach, Mandalay Beach Club, Belle Harbor and Sandpearl Resort & Residences on Clearwater Beach, The Bellamy on Bayshore in Tampa, Florencia in St. Petersburg, and The Grande and Meridian on Sand Key. For more information please visit http://www.jmccommunities.com or call 727-823-0022.
###