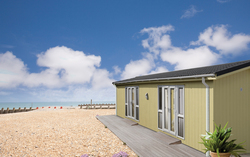 (PRWEB) October 15, 2009
The promise of long carefree days in the Summerhouse beckons. When the Wessex design team set to work on the Summerhouse their brief was to create a big holiday lodge experience from a compact footprint that would provide the ideal base for indulgent, memorable holidays at an exceptional price. Another tall order, but with such a track record of success of ground breaking products like the Deckhouse and Hideaway, they knew their designers would produce something special. Whilst available as a 20x40 ft twin, the 14x40 ft single also manages to achieve a quite remarkable sense of space and comfort for couples taking a short romantic break or as a no compromise base for longer holidays.
The living areas boast a refreshing, crisp interior accentuated by the vaulted ceiling and dramatic internal wooden beams. A blend of clever design and use of the internal areas for the kitchen, dining area and lounge achieves a remarkable sense of uncompromised space accommodating generous club style seating for five, perfect for entertaining. The use of exposed beams and the careful combination of large glazed areas and a cosy lounge makes Summerhouse living unusually atmospheric and cathartic.
Holidays are all about spending time together. The Summerhouse has been carefully designed with a flowing open plan living area with a compact but light, airy and fully equipped modern kitchen. The kitchen is separated from the elevated bistro style dining table by a feature wall that allows easy interaction with the lounge area and an uninterrupted view of the television. The expansive glazing and French doors to the kitchen and dining area create a strong alfresco feel as soon as the sun comes out.
The Summerhouse bedroom has been designed not just to afford peaceful sleep but, learning from our experience with the Hideaway, to create a memorable fulfilling space. The use of a feature wall separating the bedroom from the en-suite, provides a sense of extensive space. The French doors flanked by sidelights fill the room with light and the vibrant design scheme completes the package. The en-suite with freestanding bath is sensual and intimate whilst practical in its use of space and facilities. 'Where you wake up is a big part of enjoying your holiday'.
To find out more about the Summerhouse and other luxury lodges from Wessex Park homes, please visit there website http://www.wessexparkhomes.co.uk .
About Wessex Park Homes:
Wessex Park and Leisure Homes are one of the five largest park home and lodge manufacturers in the country with a reputation spanning 40 years. We specialise in both luxury holiday lodges and residential park homes to buy. Wessex Park Homes are members of the British Holiday and Home Parks Association, the National Park Home Council and the Gold Shield 10 year guarantee scheme.
###