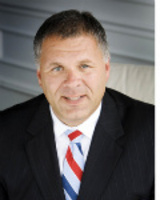 Advocate of the Year for 2008.
Bedford, PA (Vocus) January 17, 2009
Omni Hotels has appointed Scott Stuckey as general manager of Omni Bedford Springs Resort. The historic, circa 1796 resort reopened in 2007 after a $120-million renovation and expansion and became part of Omni Hotels' luxury portfolio on January 1, 2009. Located within a short drive from Washington, D.C. and Pittsburgh, Penn., the resort sits on 2200 acres in the Allegheny foothills of south central Pennsylvania, and has played host to 11 U.S. presidents. It was once considered the "Summer White House" of James Buchanan.
Stuckey has been with Omni since 2005 where he previously served as general manager of the Omni Jacksonville Hotel. During his time in Jacksonville, he was president of the North Florida Hotel & Lodging Association, treasurer of Downtown Vision and chairman of Visit Jacksonville. He was also appointed by the mayor to the Convention Center Expansion Task Force. Under his leadership, Omni partnered with the Jacksonville Hospitality Institute (JHI) and was recently named "Advocate of the Year for 2008."
"Scott is an excellent leader who will work tirelessly to embrace the local community, serve his guests and motivate associates," said Eric DeStefano, area managing director of operations for Omni Hotels. "Scott's appointment exemplifies our commitment to delivering truly memorable experiences for the guest."
Prior to joining Omni Hotels, Stuckey held general manager positions at various Marriott Hotels. He graduated in 1988 from Wisconsin Stout with a degree in Hotel and Restaurant Management.
About Omni Bedford Springs Resort
Long heralded for its healing waters and restorative environs, the Omni Bedford Springs Resort's origins date back to 1796 when its seven original mineral springs lured guests for a healing cure. A classic "springs resort" with many of the original buildings and architectural elements still in place, the restored and expanded Omni Bedford Springs Resort features the 30,000 square foot Springs Eternal Spa, five restaurants, meeting and banquet space, retail shops and a variety of recreational activities. The resort is three miles off the Pennsylvania Turnpike, a scenic drive from many major metropolitan areas: Pittsburgh (90 minutes), Washington, D.C. (two hours), Baltimore (two hours), Philadelphia (three hours) and New York City (four hours). Several major airports are also within a two-hour drive: Pittsburgh International, Reagan National, Dulles International and Baltimore/Washington International (BWI).
About Omni Hotels
Omni Hotels creates compelling, memorable guest experiences at 43 luxury hotels and resorts in leading business gateways and leisure destinations across North America. From exceptional golf and spa retreats to dynamic business settings, each location features four-diamond services, including award-winning signature restaurants, Wi-Fi connectivity and unique fitness options. Omni's mission for total customer service is further supported by its "Power of One" program that empowers associates to make on-the-spot decisions to meet or exceed guest expectations. Guests can locate hotels and book accommodations by visiting http://www.omnihotels.com or by calling 1-800-THE-OMNI.
# # #