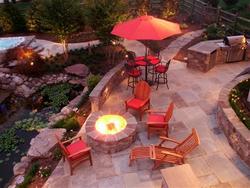 We pride ourselves on customer service, so it is only natural we created a website that reflects the level of service we extend to every customer
Damascus, MD (PRWEB) April 23, 2011
Four Seasons Landscaping and Nursery, launched a new website to enhance the online experience for homeowners seeking landscape and design services in Maryland. The new website includes a photo gallery, landscaping and patio work blog, outdoor design tips and product and service pages among other helpful inclusions.
The new website aims to help educate homeowners about home landscape design and popular outdoor styles and offerings like custom patios in Maryland, walkways, outdoor kitchens, retaining walls and outdoor lighting elements to beautify their home's exterior spaces. With over twenty years of professional landscape design experience, the company's owners wanted to create a website that helps homeowners visualize their custom outdoor living space, while providing useful information and tips.
The company's owners, brothers Doug and Rob Del Gandio, started the Maryland landscaping company over seventeen years ago. "Rob and I manage every landscaping and outdoor design project we book, whether it is a small outdoor lighting project or a large, outdoor landscaping overhaul with custom patio work. We pride ourselves on customer service, so it is only natural we created a website that reflects the level of service we extend to every customer," says Doug Del Gandio.
In addition to landscaping and outdoor design, Four Seasons owns a Maryland nursery where they grow and maintain the plants, trees and shrubs that are used in landscaping and outdoor design projects. Homeowners can visit the nursery to view and choose the specific plants to be used in their custom landscape designs.
In preparation for popular outdoor summer projects like custom paver patios, stone walkways and pool landscaping, Four Seasons Landscape and Nursery is offering complimentary consultations to homeowners interested in landscaping design and installation.
Four Seasons Landscaping and Nursery is a leading provider of custom home landscaping design and installation in Maryland. The company was founded in 1993 by Rob and Doug Del Gandio, and specializes in residential landscaping design & installation, patios, walkways, outdoor kitchens & fireplaces design and home outdoor improvements. The company includes the Four Seasons Nursery, where the highest quality plants, shrubs and trees are grown and maintained. More information can be found on the company website at http://www.fourseasonslandscaping.net/.
###