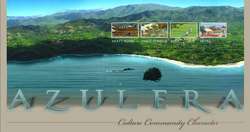 Scottsdale, Arizona (PRWEB) February 27, 2008
Azulera Resort Village in Costa Rica - Fly & Buy Weekend.
Join us for a Fly & Buy* Weekend.
CHOOSE FROM THESE DATES

March 07 - 09
March 14 - 16
March 28 - 30
Azulera Resort Village is a world class resort destination with beautiful sandy beaches, a Five-Star Hyatt hotel, a world-class golf course designed by Greg Norman, unique entertainment, exclusive retail opportunities, and luxury residential Villa and Condo properties.
Azulera Resort Village truly embraces the Community, Culture and Character of Costa Rica. The community uniquely offers appreciation of local culture and experiences that surprise the human senses.
Call us at 480-595-6412 or email us today.
For some flights from major cities and fun tour activities while in Azulera, click here.
*Buyer will pay their own travel and accommodations. When the buyer purchases any of the offered Azulera villas/condo, the dollar amount spent will be reimbursed at closing.
About Jeff Daley
Jeff Daley, a REALTOR® and owner/agent with Keller Williams Arizona Realty - Scottsdale. He is a member of the international Institute for Luxury Home Marketing and has taken specialized training in the selling and marketing of upper-tier homes. He holds an MBA from George Washington University and rose through the ranks to senior management within Lucent Technologies with responsibilities for marketing and operations before taking early retirement in 1999 and starting his second career in Luxury real estate. Jeff has won numerous awards in real estate, is a Certified Luxury Homes Marketing Specialist, a member of the Millionaire Guild, is published in national publications, and is an instructor for real estate. He and his wife Jane have their business in Scottsdale, Arizona where they specialize in International and Scottsdale real estate.
###