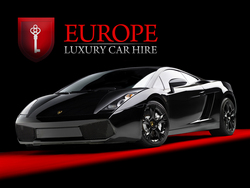 We noticed that the rate of a given luxury car is not the first issue of concern for our clients. The first requirement usually is what we call "total flexibility".
(PRWEB) February 2, 2011
Europe Luxury Car Hire has launched a new website, catering to the specific needs and demands of their high-end clients. The site offers improved navigation through various rental locations and presents rental car categories and brands in a clear and simple way. Clients can request a quote for any number of cars, to be dropped off and picked up at hundreds of locations in Europe and the United Arab Emirates. Clients may also easily request additional services such as VIP protection, 24/7 concierge assistance, chauffeur services and more.
Providing a complete service with high flexibility to facilitate unusual demands has proven to be a crucial element of the luxury car rental market. Apparently, the main concern for people who rent a luxury car is not the price. "We noticed that the rate of a given luxury car is not the first issue of concern for our clients," says Phil Tobin, director of Europe Luxury Car Hire company. "The first requirement usually is what we call "total flexibility" - they each have specific and detailed requests that we fulfill meticulously. Recently, a client of ours hired two expensive cars – a unique Bentley convertible and a Porsche 911 convertible in Barcelona. From Barcelona he drove to Marseille, France, where he boarded a helicopter to Nice, while our chauffeurs drove the cars to greet him there. The journey back to Barcelona was even more complicated..."
When it comes to hiring luxury cars, total flexibility takes on various shapes and forms: A couple that hired a 2 seater Ferrari in Marbella requested that their luggage be driven separately to their resort, due to the limited baggage space in the Ferrari. A client on a private wine tasting tour in Tuscany requested the services of a professional chauffeur during the tour, for obvious reasons. Special airport meet-and-greet requests, VIP protection, on-the-fly concierge services and more are all seen as integral aspects of luxury car hiring.
Usually, the price of the hire car is a secondary concern at most. This is because renting luxury cars is not as expensive as it used to be, and for the passionate drivers the difference in price between a regular and a luxury car rental is not big enough to become a major concern. Moreover, as stated above, the needs and demands of high-end clients are not the same as clients renting a regular car, and these unusual demands entail additional costs.
The third factor, after total flexibility and price, is the car itself. According to Tobin, a large percentage of clients haven't a fixed idea about the specific car for rental and are open to recommendations. Having said that, some clients are very particular about the car they want, requesting a specific brand, model and year, and even color.
The most popular locations for renting a luxury car in Europe have stayed the same for the past decade. Most luxury car rentals will at some point arrive at a sunny European resort in either Spain, France or Italy. Obviously, the pick-up point can be any of the major European cities – Barcelona, Paris or Milan - or port destinations of Marseille, Cannes, Nice, Monte Carlo and Marbella, Malaga. Renting a luxury car for a short business trip is also highly common across major cities in Europe, either to impress clients, reward employees, or simply to mix business with pleasure.
No matter the reason for renting a luxury car, thrill and enjoyment is guaranteed. Driving a prestige car along the highways, hill-tops and coastal roads of Europe is a unique experience and will definitely keep the luxury car rental market rolling in the coming decade.
About Europe Luxury Car Hire:
EuropeLuxuryCarHire.com is a high-end car rental company offering luxury cars for hire all across Europe. Luxury car categories include 4X4s, convertibles, supercars, sports cars and more, and featured brands include BMW, Bentley, Porsche, Ferrari, Mercedes, Lamborghini, Land Rover, Rolls-Royce and more. All cars are equipped with advanced security systems. The company covers eight countries in Europe including UK, Spain, France, Germany, Italy, Switzerland and has recently expanded to service Dubai in the United Arab Emirates. Through a large network of partners and authorized agencies, Europe Luxury Car Hire is able to source rare and exotic cars, even during high season. The company also offers complementary VIP services such as airport pick up, chauffeur car hire, VIP protection, limousine rental and other travel concierge services.
###