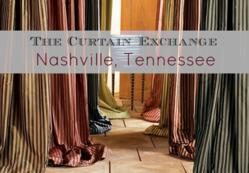 I am so thrilled to be able to go back to my old college and display my work
Nashville, TN (PRWEB) April 03, 2013
The Curtain Exchange, a designer curtain retailer in Nashville, Tennessee, is proud to help support the O'More College of Design 2013 Show House. The Traditional Home-sponsored show house will feature relaxed and elegant draperies for the dining room by Dana Goodman Interiors and TJ Aiello, owner of the Curtain Exchange of Nashville. The event will take place at the O'More Show House at Berry Cottage in historic Franklin, Tennessee. The show house will be open April 5 through April 21.
In support of this event, The Curtain Exchange will hold a ticket raffle; there will be two sets of tickets available to two lucky winners. At 20 dollars per ticket, this adds up to a 40-dollar value. People interested in this event should visit The Curtain Exchange of Nashville in Green Hills to enter the raffle. Guests of this event will have the opportunity to explore design options and learn more about how to choose the right draperies for their rooms.
TJ Aiello and The Curtain Exchange of Nashville are proud to support this event in part because Aiello attended the O'More College of Design. "I am so thrilled to be able to go back to my old college and display my work," he said Thursday when reached for comment. For updates on this event and more, please visit The Curtain Exchange of Nashville on Facebook.
The Curtain Exchange offers custom luxury drapes and ready-to-buy designer drapery and window treatments in Nashville, Tennessee. In addition to a constantly updated line of fabrics that may be selected from to create custom draperies, The Curtain Exchange also carries a distinctive selection of ready-to-buy curtain styles and offers drapery hardware and installation. The store's in-house consultants are happy to work with guests in-store or at home, and customers are encouraged to take advantage of The Curtain Exchange's 48-hour take home approval process. All of The Curtain Exchange's draperies are made in the USA. For more information or to schedule an in-home consultation, please visit http://www.thecurtainexchange.com.