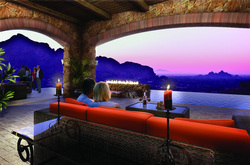 There is aesthetic value in building with the site as opposed to forcing design on to the site
Phoenix, Ariz. (PRWEB) March 19, 2009
The scenic desert vistas and natural Sonoran topography were the guiding inspiration for the architectural and land planning design team at Paradise Reserve, Phoenix, Arizona's newest luxury home community tucked away in the high-desert mountain foothills above Phoenix and bordering the Phoenix Mountain Preserve.
Three years of strategic planning, design and site considerations have culminated with a rare desert hideaway, Paradise Reserve. As the last multi-acre parcel on the Phoenix Mountain Preserve, the project offers a lifestyle of prestige, exclusivity and environmental responsibility. The community features estate-sized properties nestled into hillside lots situated minutes from the heart of the city, at the crossroads of Phoenix, Paradise Valley, Scottsdale and the popular Biltmore shopping district.
With $40 million in site infrastructure now completed and sales moving forward on the project's 14 custom luxury home lots, the development team is now launching sales of the Paradise Reserve Village Homes. Construction on these 32 single-family luxury homes is scheduled to commence in fall 2009. The Village Homes start at under $2 million and range from 3,000 to 5,000 square feet.
Preserving Nature
Paradise Reserve was designed as a living tribute to the Sonoran Desert. This remarkable acreage has been sensitively transformed into a rare collection of expansive, gated and guarded custom estate sites with a surprisingly small environmental footprint. Craig Wickersham, AIA, the project's architect, said the design goal was to preserve the land and the site in the most appropriate way. Most of all, the objective was to treat the site with respect for nature and the environment. "There is aesthetic value in building with the site as opposed to forcing design on to the site," noted Wickersham, who studied at Frank Lloyd Wright's Taliesin. Frank Lloyd Wright was an architectural genius legendary for his harmonious designs that blend within the natural environment. "At Paradise Reserve, there is an orchestrated sense of design that immediately creates value for the homeowners. It is a truly special and rare site."
Site Architecture
While sales have commenced at Paradise Reserve, the timeless architectural and design vision will forever preserve the site's integrity for future generations. Envisioned and conceived by developers, Scott Patrick Schiabor and Bob Sahd, Paradise Reserve has been thoughtfully designed to pay homage to, and reflect, the pristine natural beauty of the Phoenix Mountain Preserve. With the goal to create an extraordinarily place to live and an outstanding real estate investment, these visionaries have created a microcosm where the experience of living in a luxury home at the Reserve and visiting the neighboring Preserve are one and the same. "From a design perspective, we didn't dictate the design of Paradise Reserve, we let the land do it for us," said Schiabor, the developer of Paradise Reserve. "We wanted a seamless transition from nature to living and that's what we now have. It's simple, yet extraordinary."
All structural design elements were defined for their graceful integration into the Sonoran environment: classic architectural style, a controlled palette of desert-sensitive colors, low-profile natural roadways, unobtrusive lighting and natural materials defined in the project's design guidelines such as clay tile roofs, imported custom brickwork and tumbled pavers. Wickersham said the architectural guidelines developed for the site will continue the environmental stewardship mission.
Exclusive Lifestyle
Surrounded by the tranquility of unspoiled desert landscape, Paradise Reserve is also minutes from the finest array of cultural and cosmopolitan attractions. This includes world-class shopping, gourmet dining, premier golf courses and five-star resorts and spas.
Each distinctive luxury home site showcases views of Phoenix's legendary mountains including the renowned Camelback Mountain. Buyers at this serene "desert retreat in the heart of the city," will be afforded the best that high-desert refined living and big-city life have to offer. Future residents can build their own architectural masterpiece on this pristine and protected acreage - a lush desert oasis coveted for decades and untouched by time.
Schiabor and his Scott Patrick Family of Companies and partner, developer Bob Sahd, have developed numerous successful communities around the Southwest including projects in New Mexico, Texas and now Arizona. At the center of each development is a keen awareness of how homes can be integrated into a landscape that blends within the surrounding environment.
Paradise Reserve has 14 hillside lots available. Prices range from $1.8 million to $5.1 million. Phase II includes 32 custom Village Homes priced from under $2 million. Each luxury home at Paradise Reserve will be built by approved builders with experience in luxury and environmentally-sound design.
About Paradise Reserve
Paradise Reserve is an extraordinary luxury residential development that represents a rare desert retreat in the heart of the city. It is one of the last private properties bordering the Phoenix Mountain Preserve located at the crossroads of Paradise Valley, Scottsdale and Downtown Phoenix. Each of its heirloom estate properties is sensitively transformed to create the smallest environmental footprint while maintaining the highest luxury lifestyle available to its residents. Paradise Reserve is being developed by Paradiso Development Corporation. For more information, please visit http://www.paradisereserve.com.
About Paradiso Development Corporation
Paradiso Development Corporation is the Arizona Development Company associated with Scott Patrick, Inc., a New Mexico-based residential developer emphasizing custom land planning, environmental design and distinctive homesites. For more information, please visit http://www.scottpatrickhomes.com.
# # #