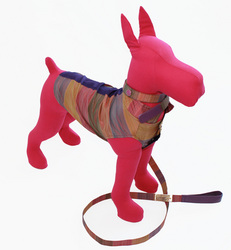 "I am thrilled to be chosen to attend the 'No Place like Home' pet product showcase. Our products are designed to enhance and blend with lifestyle, and this show couldn't be a better fit for Luxury Pets' philosophy." - Keith Sanna, CEO Luxury Pets
San Francisco, CA (PRWEB) November 9, 2010
Luxury Pets® Furnishings & Accessories is set to show its Dream Collection at the prestigious "No Place like Home" Pet Product Showcase, presented by Pet Socialite Events at the InterContinental Barclay Hotel in Manhattan. The Luxury Pets Dream Collection combines luxury, beauty and style and features collars, bowls, beds, blankets, apparel, pendants, collars, leashes, and Organic Treats for dogs and cats.
The "No Place like Home" showcase provides pet boutique owners, pet product buyers and press access to the latest and most innovative indoor and outdoor pet products and accessories from a select gathering of companies. Approximately 150 attendees and 25 companies are expected to participate in the event, run by Charlotte Reed, co-founder of Pet Socialite Inc. and author of "The Miss Fido Manners Complete Book of Dog Etiquette." Says Reed: "Pet parents are spending more time at home with their pets and the demand for stylish yet functional products is on the rise. We're excited to showcase new products that will help pet lovers with solutions to everyday issues, but also to be able to visually enjoy their indoor and outdoor environments."
Luxury Pets is coming off two successful shows; SuperZoo at Mandalay Bay in Las Vegas, and H.H. Backer in Chicago, where the Dream Collection line of hand-crafted beds, blankets, collars, leashes, and apparel, all made from EcoDesign™ Ultra Suede and various wools, cashmeres, and leathers, created tremendous buzz from press, retailers, and taste-conscious pet lovers alike. Luxury Pets Organic Treats and marble/granite bowls were also a hit with the four-legged attendees.
Designer and CEO Keith Sanna is the creator of Luxury Pets Furnishings & Accessories. Sanna is a part-time student in the pet fashion design program at the Fashion Institute of Technology (FIT) in New York, where during last year's Bryant Bark fashion show he showcased a preview of select items from his line to tremendous acclaim from attendees, designers and media. Sanna explains, "I am thrilled to be chosen to attend the 'No Place like Home' pet product showcase. Our products are designed to enhance and blend with both the owners and pet's lifestyle, and this show couldn't be a better fit for Luxury Pets' philosophy."
The Luxury Pets Dream Collection line will be sold online at http://www.luxurypets.com, in high-end department stores, finer hotels, and pet boutiques throughout the world. Sanna and business partner Michael Gallotta hand-selected eco-friendly fabrics and materials to reduce the impact on the environment. "We wanted to offer a comprehensive and environmentally responsible line of upscale pet products for those pet lovers who only want the best," says Gallotta. "Functionality, quality and durability go hand in hand with gorgeous design." The complete Dream Collection features high quality and durable materials including Italian leather handles for the leashes, marble and granite bowls, lambskin leather bomber jackets and silk windbreakers.
###