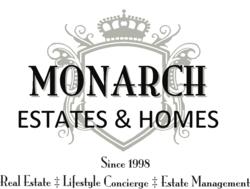 One call for all your luxury real estate needs.
Los Angeles, CA (PRWEB) February 14, 2012
What began as a project for a client who was remodeling their beach home turned into a thriving estate management and real estate business. Witness the all-inclusive luxury real estate services of Monarch Estates and Homes; the newest tool for multi-estate owners to manage their luxury real estate portfolio.
CEO and Realtor®, Dallas Short, who established the estate management company in 1998, after demands from clients became overwhelming, has expanded his company to incorporate an international real estate firm. Founded by COO and Broker, Laura Doughty, Monarch Estates and Homes provides comprehensive real estate services for the client who requires anonymity and demands superior service and knowledge for all their real estate acquisitions.
Monarch Estates and Homes provides real estate, lifestyle concierge and estate management services for their exclusive clientele; delivering the details that are required with luxury real estate and luxury lifestyle. Their customized systems are strategically planned to assist the clients every need. "When it comes to luxury real estate, clients sometimes don't realize that 'they' are the detail, the property is secondary. Once we understand them – what they like/dislike, their style, etc. – the hard part is done. Shopping for a property, no matter where in the world they are looking, becomes second nature when you understand the client," says Ms. Doughty.
Despite the gloom of the economic crisis, sales of luxury properties on average are rising. When the economy gets tough, the rich get going at increasingly large estates. "I've seen our clients become less anxious over the past year. They know we know properties from the foundation up. We know the maintenance cost before they make the decision to purchase the home and once they're in, we make the transition seamless with our concierge and management services," says Short. These services at Monarch Estates and Homes are provided by their Monarch Reserve division; all-inclusive services providing peace of mind for the multi-estate clients who have a lot on the line financially.
When owning a second home, owners typically hire a myriad of employees to handle all the different aspects of the estate; a house manager, a handy man, pool service, gardeners, and often have one of their personal assistants handle the coordination of any additional vendors. With Monarch Estates and Homes there is no need to have multiple people in charge of the property. With one phone call, not only is the process simplified; it's more cost effective and efficient and most importantly, safe.
From security to maintenance, floral arrangements to hiring a chef, Monarch Estates and Homes can not only source the property and handle the transaction for that luxury client, they make it possible for them to be "at home" no matter which property they rest their feet.
About Monarch Estates and Homes
Monarch Estates and Homes is headquartered in Malibu, California. Their services are one-of-a-kind providing the knowledge and expertise of the real estate transaction combined with understanding the details of the construction, management of the property and their lifestyle. Their clients have come to trust their customized approach. Monarch Estates and Homes is there before, during and after each real estate acquisition. They are the one call for all luxury real estate.
Media Contact:
Laura Doughty, COO
Monarch Estates and Homes
310-317-6794
laura(at)monarchestatesandhomes(dot)com
monarchestatesandhomes.com
####