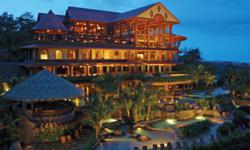 I've had the pleasure of soaking in their hot springs and enjoyed excellent sushi while taking in the breath taking views of Arenal volcano
Atlanta, GA (PRWEB) July 13, 2012
Vayu Media the Atlanta based internet marketing firm has been steadily growing their international client base. The company has now partnered with The Springs Resort & Spa Costa Rica for a web presence leadership campaign.The addition of the five star luxury resort in costa rica solidifies Vayu Media as the go to search engine marketing firm in that country.
The Springs Resort & Spa has been called 'One of the seven resorts with the most spectacular views in the world' by CNN Travel and has been featured on ABC's The Bachelor in 2011.The Five-Star resort's steamy hot springs, and the property's riverfront rainforest reserve and mineral pools have been the captivating backdrop for many family vacations, weddings and romantic honeymoon getaways. The Springs Resort & Spa is the most romantic hotel in Costa Rica.
"I have a passion for travel and exotic destinations which makes the addition of a client like The Springs especially exciting for me personally. I've had the pleasure of soaking in their hot springs and enjoyed excellent sushi while taking in the breath taking views of Arenal volcano. This luxury boutique hotel is truly special" mentioned Jennifer Dunphy, VP of Sales & Marketing at Vayu Media.
Vayu Media's portfolio of Costa Rican travel and leisure clients includes The White Collar Vagabond, South of Exotic, and Leaves and Lizards.
About Vayu Media:
Vayu Media is an Atlanta, GA based internet marketing firm serving clients nationally and internationally by developing custom search engine marketing strategies. Vayu Media offers SEO, SEM, Mobile, Display Advertising and Web Desing and Development services. For more information please contact Vayu Media at 1-800-456-1563 .