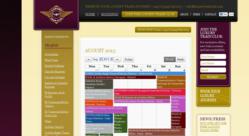 Many people want to travel between certain dates. Until now, searching for luxury train holidays to match those dates has been very difficult.
Chippenham, Wiltshire (PRWEB) November 28, 2012
This week the Luxury Train Club officially launches its worldwide luxury train booking calendar. For the first time travellers can easily browse, find and book luxury rail journeys by over 25 trains in 35 countries worldwide by matching specific holiday dates.
"Many travellers want to travel between certain dates. But until now, searching for luxury train holidays to match those dates has been very difficult," said Simon Pielow, of the Luxury Train Club. "Now, individuals, groups and travel agents can find all the information on luxury trains in a single website – along with photos and descriptions of journeys and prices."
The development represents a step closer in the company's long term ambition to become the worldwide concierge for luxury train travel bookings for individuals as well as for travel agents. As a further commitment to agents, Train Chartering is planning the launch of Open Access Rail in early 2013; agents are invited to register on the embryo website.
Whilst many other train booking websites exist, they usually specialise in offering regular rail tickets, train vacations in single countries or with a train single operator. None of them offer easily accessible information on such a wide range of rail tours coupled with a global calendar.
"The Luxury Train Club has proved unique in offering individual seat bookings as well as private charters of the world's best trains. The calendar has been introduced to help those whose first concern is the vacation date," said Simon Pielow.
Travellers can now find which trains are travelling on a specific date from the main calendar or select trains by country, or by name and then select their preferred travel dates from that train's own calendar. Each train has a gallery of images, offering up to 20 or more images, as well as detailed information about each tour and pricing information.
"It's our intention to become the single authoritative resource for discovering and choosing luxury trains on the internet. The booking calendar is a step nearer that goal," said Simon Pielow.
About the Luxury Train Club
The Luxury Train Club is the personal booking service for the world's greatest train journeys, offering a concierge approach to booking train holidays, vacations and day trips. The site also offers private rail charters and rentals for VIP and corporate bookings as well as comprehensive information about each of the trains on offer.
The website is part of a group of rail booking sites which includes Train Hire, Private Rail Cars, Train Chartering and Open Access Rail.
For more information, please visit http://www.luxurytrainclub.com
For press enquiries please contact Simon Pielow on +44 (0)1249 890205 or email info(at)luxurytrainclub(dot)com