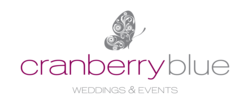 It's really good to get recognition from the industry, suppliers and clients alike
London, UK (PRWEB UK) 29 September 2012
London wedding planner, Cranberry Blue, has scooped two top accolades in the 2012 Wedding Industry Experts Awards in the categories of 'Best Wedding Planner London' and 'Best Wedding Planner UK'.
Founder and Director of Cranberry Blue Weddings, Melanie Helen said: "I was absolutely thrilled to win not just one, but two industry awards. It's really good to get recognition from the industry, suppliers and clients alike, so it means a lot both on a personal and professional level."
Melanie's background is in both fashion and event management and Cranberry Blue is the result of her hard work and dedication. Having attended several weddings that were disorganised and didn't quite live up to expectations, she felt she could utilise her skills and creativity to create seamless and stunning weddings. As a result Cranberry Blue Weddings was formed in 2009 and Melanie entered the very competitive market of luxury wedding planners in London.
The Wedding Industry Experts Awards recognises companies that excel in their respective fields in the UK and worldwide including: Australia, Canada, Ireland, New Zealand and the United Kingdom. Entrants were judged by the number of votes they received online, with an advisory panel of well respected wedding experts including Kelly Hood from the Boho Wedding Blog, Nicola Russill-Roy from Propose PR and Ciara Elliot, Editor of 'Wedding' and 'Wedding Flowers' magazine.
Having worked alongside esteemed fashion designer Roland Mouret, Melanie has a keen eye for fashion and new trends, be it reception ideas or wedding dresses and accessories. This enables her to add much more than many wedding planners and she can confidently create the desired 'wow' factor with the venue décor and overall design of the day.
Cranberry Blue has a broad range of experience from planning small and intimate weddings to lavish ones on a grand scale. Each wedding is created on a bespoke basis and is personal to their clients. The meticulous attention to detail, eye for design, exemplary service and an understanding that only perfection will suffice, is what makes a wedding designed by them so unique. They can organise every conceivable aspect of the day but it depends entirely on the couple's individual requirements, so they offer a range of services from Full and Partial Planning to On The Day Management and The Rescue Remedy to name a few.
As well as the unique skills that Melanie has to offer, Cranberry Blue's credentials are under-pinned by being a member of the UK Alliance of Wedding Planners, which means that clients know they are getting a completely professional service from start to finish.
Cranberry Blue's clients are based across the UK and abroad and they have planned a variety of different faith weddings, including adding South Indian to their portfolio this year. They are also experienced in arranging marquee weddings and working with blank canvases, from an English fete style wedding to a large contemporary wedding with four marquees this June.
As well as Cranberry Blue's impressive portfolio of services, they also offer a Luxury Hen weekend experience, where the bride to be and their closest friends are pampered with a personal shopping trip, Champagne, afternoon tea and professional hair and makeup styling, complete with location photo-shoot.
With a well earned reputation as a specialist boutique agency for luxury wedding planning, the future of Cranberry Blue is firmly focused on building on the strength of its brand without losing focus on the uniqueness that has afforded it the success of the recent awards.