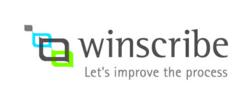 "Winscribe has truly mastered the ease-of-use for both dictating authors and transcriptionists, and, because of that, we have had a very good adoption rate amongst our staff. " - Garry Moore, Manager of Information Technology, L.V. Lomas
Chicago, IL (PRWEB) May 18, 2012
Winscribe announced today that one of the top 25 chemical distributors in North America, L.V. Lomas, has deployed its award winning digital dictation workflow management suite and integrated BlackBerry application. As a result, L.V. Lomas has cut their transcription turnaround time from three days to 24 hours, which has significantly improved their staff's productivity.
After closely evaluating their sales team's practices, L.V. Lomas found that their standalone dictation system was prolonging their transcription turnaround time and infringing on their staff's productivity potential. L.V. Lomas aimed to provide a more efficient way for their sales representatives to submit work while on-the-go, as well as improve transcription turnaround times by implementing an easy-to-use system that could be centrally managed and allowed for quick transcription turnaround. They found the ideal solution in Winscribe's digital dictation workflow management system and Winscribe's integrated mobile application for BlackBerry Smartphones.
L.V. Lomas' objectives and requirements were clear. Their main reason for implementing Winscribe Dictation was to decrease the time from dictation to typing. L.V. Lomas' Manager of Information Technology Garry Moore mentioned that," in the distribution business, we post the comments from the sales representatives' meetings on a portal for our suppliers to see. Since we have full transparency with those principals and they are aware of when meetings take place, the quicker they can see the output from meetings, the happier they are. As a result of implementing Winscribe Dictation, we shortened our dictation to transcription cycle from an average of three days to approximately 24 hours, which has made us, and our suppliers quite happy."
L.V. Lomas' executives, IT team and staff appreciate Winscribe Dictation's intuitive design and ease-of-use. "Winscribe has truly mastered the ease-of-use for both dictating authors and transcriptionists, and, because of that, we have had a very good adoption rate amongst our staff. Furthermore, we have never had a challenge introducing our team to the Winscribe system or bringing them up to speed quickly. This is incredibly important for companies like ours, who need to invest in solutions that can be adopted quickly and easily and provide business value," remarked Mr. Moore.
L.V. Lomas has also seen a return on investment from moving forward with Winscribe's digital dictation workflow management system. Mr. Moore described that, "the return is largely shown on the flash to bang side of things – meaning that it permits us to collaborate and share information quickly with our internal teams and external suppliers. The increased productivity of our team and efficiency of the Winscribe Dictation system has definitely justified the cost."
With the success of using Winscribe Dictation amongst their sales team, L.V. Lomas is planning on expanding the use to their executive team later this year. Anticipating further improvements in staff productivity and transcription turnaround time, L.V. Lomas is also planning to pilot Winscribe's integrated speech recognition capabilities.
A full case study is available as a PDF download here.
-END-
About L.V. Lomas Ltd.
L.V. Lomas is powered by the expertise of more than 200 qualified professionals in seven locations across Canada and in the Pacific Northwest of the United States. A charter member of the Canadian Association of Chemical Distributors, L.V. Lomas is one of the largest chemical distributors in North America, and is the leading specialty chemical distributor in Canada. Since its founding in 1960 by Lloyd V. Lomas, L.V. Lomas Limited has remained privately-held. An ISO 9001:2008 company.
For information about L.V. Lomas, as well as their products and services, please visit their website at http://www.lvlomas.com.
About Winscribe
As the world's leading provider of digital dictation software, Winscribe supports businesses all over the globe with their requirements for digital dictation, digital transcription, voice recognition, and workflow management. Based on years of experience in the workflow management field Winscribe has now extended its offering to Business Process Management solutions for the legal market.
Winscribe is the largest supplier of digital dictation technology in the world with installations in 25 countries and more than 350,000 users globally. Winscribe provides solutions for a number of industries including Legal, Law Enforcement, Healthcare, Transcription, Surveying, Insurance and Government sectors and has a widespread global reach with strong customer presence in North America, Europe, Australasia, and South Africa.
Offices located in the USA, UK, New Zealand, Australia, and Switzerland and a network of more than 100 sales partners provide a global knowledge base that enables customers to successfully implement and maintain their Winscribe solution.
To learn more about Winscribe and their suite of digital dictation, speech recognition and business process management solutions, please visit http://www.winscribe.com.