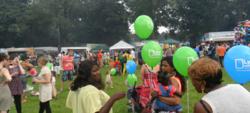 At Lycamobile we are passionate about reaching out to our communities, at home and abroad, through a wide range of activities. The Lambeth Country Show is the perfect place to celebrate the tremendous diversity of cultures we have in London.
London, United Kindgdom (PRWEB UK) 11 September 2012
The Show's spirit of engaging directly with the community chimes with Lycamobile's commitment to working with local citizens and businesses. On 15th and 16th September, the Show will bring together 180,000 people from across South London, which holds over 150 nationalities, to provide an array of arts and crafts exhibits, carnival processions and live music such as performances from artists Soul 11 Soul and Omar.
The Lambeth Country Show is just one of many events the company is involved in this summer, including the Brazilica Festival, the UK's biggest Brazilian Samba Carnival in Liverpool and Ghana Party In The Park in London. Lycamobile's dedication to the community was recognised this year with a Business in Community award for helping to improve the lives of ethnic minority groups.
Subaskaran Allirajah – Group Chairman and Founder, Lycamobile comments:
"At Lycamobile we are passionate about reaching out to our communities, at home and abroad, through a wide range of activities. The Lambeth Country Show is the perfect place to celebrate the tremendous diversity of cultures we have in London. Lycamobile's mission is to provide telecommunications, financial, travel and entertainment products and services to the international ethnic and immigrant communities but we also want to make sure we make strong connections with communities in the UK at grass roots level."
About Lycamobile
Lycamobile is a prepaid mobile SIM card provider that provides low-cost, high-quality international and national calls to over 20 million activations across 15 countries (UK, Netherlands, Belgium, Switzerland, Denmark, Norway, Sweden, Italy, Spain, Australia, France, Germany, Poland and Ireland). Lycamobile is available through an extensive network of more than 500,000 retail outlets. The brand was initially introduced in 2006 and is already Europe's largest pre-pay MVNO. Lycamobile continues to grow rapidly with further market launches planned throughout 2012.
http://www.lycamobile.com