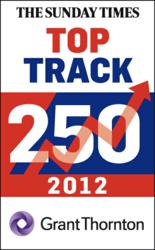 This is a fantastic recognition for the hard work, commitment and entrepreneurial spirit of the team.
London, United Kingdom (PRWEB UK) 16 October 2012
The Lycatel group is renowned for its flagship brand Lycamobile the largest global provider of low cost international mobile calls, made its second appearance in the Top Track 250 league table of mid-market private companies published in the Sunday Times Fast Track on 14th October 2012.
The Top Track 250 identifies those companies that are rising to the challenging market conditions – the research identifies firms that are leading the recovery by only including those that have increased their revenues or, where sales have decreased, have boosted their operating profits according to their latest available accounts. The Top Track 250 is compiled by Fast Track and featured in the Sunday Times with sponsorship from Grant Thornton.
Lycamobile is ranked 38th out of a total of 250 companies on the report with sales of £444.3m and the report highlighted the Lycamobile operating profit of £9.5m in the financial year end February 2011.
Subaskaran Allirajah, Chairman and Founder of the Lycatel Group commented,
"I am delighted that Lycatel has once again been acknowledged for its success as one of Britain's top 50 mid-market private companies by the Sunday Times Top Track 250. This is a fantastic recognition for the hard work, commitment and entrepreneurial spirit of the team.
The news is especially rewarding alongside our triumph in the Sunday Times Tech Track 100 in September. We are looking forward to another extremely strong year of continued growth for Lycamobile in 2013."
Milind Kangle, Lycatel Group Chief Executive added:
"Congratulations to the Lycamobile team on this significant achievement. I am confident that the team will drive the Group forward to greater success in 2013 with the accelerating growth that we are seeing in our existing 15 markets along with the imminent launch of Lycamobile in North America."