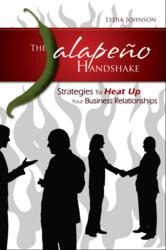 "You can do what you want to do. You can be what you want to be," R.David Thomas.
(PRWEB) November 12, 2012
"The value that you put on a relationship," says author and consultant Lydia Johnson, "is shown by how you keep your commitments to the other party." Johnson, whose book The Jalapeño Handshake serves as a guide to business relationships, made this comment in a recent presentation to a group of life and business coaches. The group met to learn new ways to provide better service to their clients.
According to Johnson, relationships built on the simple principle of "under promise and over deliver" establish a bond that is rich in trustworthiness. Trustworthiness in a relationship grows organically as the parties keep their commitments to one another. Johnson gave the group tips on ways to create trustworthiness in all of life's relationships:
Friends and family. Keep every possible commitment, especially the small ones. Children remember when a parent follows through on a promise to read to them at night or to attend a ball game. Friends remember when someone places their lunch date above other, more pressing matters. Emergencies happen and plans sometimes change, but every broken promise chips away at the relationship. Show others their value by making time spent with them a priority.
Customers and clients. If customers or clients depend on a person or business to provide a service for them, the bottom line is to provide the service or product dependably. Their business may depend on such dependability. More important than that, however, (at least as far as the relationship is concerned,) is that customers remember the supplier who comes through for them – every time – in tough situations. Being consistently dependable puts a business ahead of 99% of its competition.
Keeping commitments is the most important tool that anyone can add to their relationship toolbox.