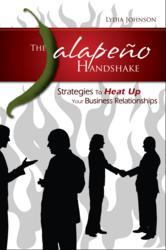 All of us are gifted; Some just open our packages earlier than others
Vancouver, Bc Canada (PRWEB) August 09, 2012
In a recent Chartered Accountants gathering, the topic of great interest was the great difference-makers who will win gold at the 2012 London Olympics, and the athlete's ability to focus, says Lydia Johnson, author of The Jalapeño Handshake, a guide to personal excellence. "Turning your mind's full attention eliminates distractions, a major issue for Olympians. Watch the top competitors just before their event. They're almost in a trance." Johnson recommends that her clients use the power of focus in three ways – to set long-term goals, medium-goals, and immediate goals.
Long-term goals. Prior to London 2012, U.S. Olympian Michael Phelps has won sixteen Olympic medals. At a young age he focused on the long-term goal of becoming the world's best swimmer. All of his energy and training were devoted to that one objective. He specialized. Those people who specialize in a particular endeavor concentrate their efforts on the training, education and relationships that help them reach that goal.
Medium goals. For many people, establishing medium goals means taking college courses that enable them to achieve a specific degree. For others it means gaining proficiency in a particular skill. Such goals are often incremental. Step One precedes Step Two, which precedes Step Three, and so on, all steps leading to the ultimate goal.
Immediate goals. These are the moments when "the rubber meets the road." Napoleon Hill, in his book Think and Grow Rich, says to take such moments to eliminate all negative energy and thoughts and focus on the larger goal at hand. Whether it's a sales call, a presentation, or a gold medal race, this technique ensures that the average person, as well as top Olympic athletes, have the best chance at winning their "gold medal."