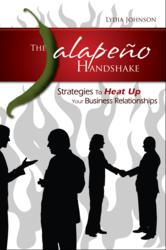 Today is your day. Your mountain is waiting so get on your way! Dr Suess
(PRWEB) December 28, 2012
"There's a huge difference between setting goals and reaching them." That's the message consultant and author Lydia Johnson had for a group of business people at a recent seminar she conducted. Johnson, author of The Jalapeno Handshake, spoke to the group about that difference. Many people set the same goals at the first of January year after year, yet seem to always fall short. She explained to the group how they can achieve their goals, what she termed "goal-GETTING."
A number of factors determine success in achieving goals, Johnson said. She gave the group tips on how they might achieve their own success:
Know what you want. Johnson told the group of a mountain near her home that has a steep hiking trail to the top. Sometimes she used to hike it for pleasure, taking her time to enjoy nature. Other times she hiked for exercise, head down and pushing hard. Johnson explained that she decided beforehand what her goal was for that day, and acted accordingly. Knowing in advance what we want to achieve determines the things we do to reach that goal.
Plan the steps of the journey. Johnson compared goal setting to climbing Mount Everest. Experienced climbers, knowing the climb to the peak takes several days, establish camps along the way where they can rest, resupply, and observe changing weather conditions. Achieving a goal is accomplished in stages as well. Planning our route to success in stages lets us periodically check our progress, and adjust plans when necessary.
Remember each goal is personal. Other people have plans that work for them, but those plans may not work for us. Each of us have individual strengths and weaknesses, and the best route to success is the one that we have mapped out for ourselves.