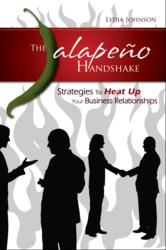 "Sometimes the questions are complicated, and the answers are simple," Dr Seuss.
Vancouver, BC, Canada (PRWEB) November 30, 2012
"We're all put on this planet for a reason. When you know your purpose, you have a direction, something that helps you adjust your sails so that regardless of how the wind blows you move closer to your destination." That's what consultant Lydia Johnson recently said to a gathering of small business owners. Johnson authored The Jalapeno Handshake, a guide to business relationships,
Johnson told the group that one discovers one's purpose in life by looking for signals along the way. She shared these tips:
Pay attention to feelings. Those times when a person feels most "in sync" with a situation are indications that he or she is close to finding a purpose in life. More than just feeling comfortable, the person often feels innately competent in dealing with such situations.
Pay attention to natural aptitude. Prodigies, or natural geniuses, are often discovered in the fields of music, math or chess. They have abilities far beyond what their experience would indicate. While everyone is not a genius, most people recognize a field or activity in which they perform better than the average person, even without the benefit of training or experience. This can be an indication of what one's purpose truly is.
Follow the signals. When a person perceives the signals indicating his or her purpose, they should try to align their goals accordingly. This may take some creativity and resourcefulness. Being able to incorporate your current activities with your purpose may make the difference in your success. Patch Adams successfully combined his talent for compassion and humor (arguably his real "purpose,") with his medical practice to achieve great success in treating patients.
Johnson concluded with the message that finding, connecting to, and living one's purpose is the truest path to a joyful life.