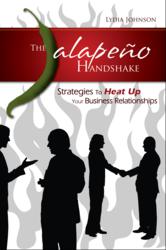 There is no try. There is just do. Yoda
Vancouver, BC Canada (PRWEB) October 16, 2012
"Own your decisions and choices," says Lydia Johnson, author of The Jalapeño Handshake, a guide to business relationships. Johnson made these comments to a group of professional certified accountants in a recent presentation she did on self leadership. According to Johnson, the best results we ever achieve are the times when we make what we feel is the best decision or choice, then commit fully to it.
Johnson recommends that we make "two mind" decisions. "Don't waste energy on doubt," she told the group. She suggests that instead attendees expend their energy on gathering information and coming up with ideas (using the "conscious mind,") then seeing if the ideas conform to their core beliefs and principles and feel right (using the "subconscious mind.") Discard ideas that feel wrong. The conscious mind can rationalize any decision, even poor ones. The subconscious mind, on the other hand, knows when an idea is bad.
Johnson suggests asking questions to make better decisions:
Do I have to make this decision? Often our circle of interest is larger than our circle of "need to make a decision-ness." People sometimes make decisions that they really don't need to make – and these decisions often wind up wrong.
Am I missing something important? This question is a matter of balance. Too little information and we may make an uninformed decision. Too much research and we suffer from "paralysis by analysis." Look for the Goldilocks solution of "just right."
Am I willing to own this decision? Johnson suggested to attendees that they imagine presenting the decision to someone whose opinion they respect, then imagine the response. The body – lungs bursting with pride or stomach churning in shame – will respond with the answer.
Lydia Johnson is a leadership coach, sales trainer, presenter and speaker. Contact her at http://www.lydiajohnson.ca/