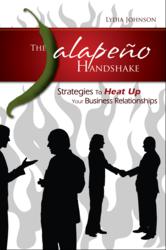 When a defining moment comes along, you can do one of two things...Define the moment, or let the moment define you. Tin Cup
(PRWEB) September 28, 2012
"In times of great uncertainty," says consultant Lydia Johnson, "it's a great time to do a self inventory of your strengths and weaknesses." Johnson, author of The Jalapeño Handshake, a guide to business relationships, made this comment recently during a discussion about the upcoming twenty-fifth anniversary of "Black Monday."
On October 19, 1987, known in business circles as "Black Monday," stock markets around the world crashed. The Dow Jones Industrial Average dropped more than 22%, the largest one-day percentage decline in stock market history. As a result, many investors lost hundreds of thousands of dollars due to circumstances beyond their control.
Johnson, speaking before a business group, advised participants to look at economic turmoil as a chance to prepare themselves for greater success. While many people tend to freeze with fear when uncertainty surrounds them, Johnson gave the group tips on actions they can take to be more successful.
Assess your strengths. "Be honest," advises Johnson. "Most people are way too modest when listing their personal strengths or that of their business." She recommends that you look for your unique advantage, the thing that differentiates you from your competition. How can you emphasize that advantage?
Shore up your weaknesses. Has your level of service declined from when you started? Are your cash reserves a bit too light to weather a financial storm? The time to address these weaknesses is now. Being able to survive in hard times is often the difference between winners and losers.
Be brave. At Lydia Johnson Consulting, Johnson reminds her clients that "Tough times don't last, but tough people do." Opportunities often present themselves during periods of uncertainty. Those who have prepared themselves by taking stock of their situation, and who are ready to take action, can grow and prosper.