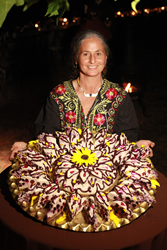 For over 18 years, Lydia Kindheart has served millions of meals...
Petaluma, CA (PRWEB) September 16, 2014
Lydia's Organics, a northern San Francisco Bay Area health food icon, launched an Indiegogo online crowdfunding campaign http://igg.me/at/SaveLydias/x to help Lydia's commercial production kitchen remain in operation. This comes after recent announcements of The Sunflower Center closing and Lydia's Organics discontinuing its packaged foods line.
By raising $200,000 it will allow Lydia's Organics to continue to prepare and serve healthy nutrient rich vegan food; to restructure the business for sustainable growth; to keep its team of core staff employed, and to maintain direct sales of its packaged food line through website and at events. Contributors to the Indiegogo fundraiser receive perks and recognition for their support in helping to save Lydia's Organics commercial kitchen.
For over 18 years, Lydia Kindheart has served millions of meals through her restaurants, catering business and festival vending. Lydia's Organics was started in 2000 as a way for Lydia's delicious and healthy food to reach a wider audience. All of Lydia's Organics' products (including crackers, chips, bars, cereals, bread, seasonings and "Kale Krunchies") are 100% vegan, organic, raw, and GMO & gluten- free. Products are currently distributed nationwide, including 38 states and Canada. Many people with special dietary needs such as, celiac disease and cancer, purchase and benefit from these highly nutritious products.
Two years ago Lydia relocated her production operations from Fairfax to Petaluma, California and opened The Sunflower Center - a multi-award winning vegan restaurant, community and events center. Given operational and financial strains, Lydia will be closing The Sunflower Center. Lydia's Express in Sebastopol, CA, a joint venture, will remain open.
There will be a farewell to the community for a day of sharing and gratitude on Saturday, September 20th 10am-9pm at The Sunflower Center. People are encouraged to bring instruments, and share in storytelling, song and dance. On September 21st, there will be an "Everything Must Go" Sale from 10am-6pm. Sale includes kitchenware, restaurant equipment, chairs, display cases, tapestries, tables, housewares and more.
Lydia shares, "I feel grateful to have touched many people's lives through nutritious foods, community, health and education. I am thankful to all of our customers and supporters. We love and appreciate you. This is not a failure, it is an opportunity for us to slow down, restructure, and integrate the wisdom and learning. Through this Indiegogo fundraiser, it gives us the possibility to save our commercial kitchen, which would be a blessing. We thank you for your continued support."
Winner of Earth Day SF's 2014 Bay Area Green Hero Award, Lydia remains dedicated to her mission to help the planet and the next seven generations flourish by making nourishing vegan, organic, raw and gluten-free foods that cultivate a healthy and joyful life for all.