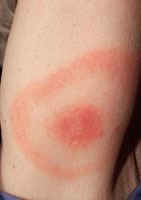 Lyme disease is often called the great pretender because early symptoms may seem like the flu. That's why it's important to stay on the alert for the classic Lyme bulls-eye rash, or any other unusual rash
Havertown, PA (PRWEB) September 9, 2009
"Lyme disease is often called the great pretender because early symptoms may seem like the flu. That's why it's important to stay on the alert for the classic Lyme bulls-eye rash, or any other unusual rash", advises Lyme expert Domenic Braccia D.O, "if you see an unusual rash, take a photograph and make an appointment to see your physician. Taking a wait-and-see attitude before reporting the tell tale "bulls-eye" rash of the deer tick bite can be dangerous".
Here are Dr. Braccia's recommendations on what to be on the alert for.
1. The Lyme rash is usually at the site of the tick bite. And since ticks like to hide, the rash is often behind the knee, groin, waistline, armpit, or scalp.
2. Don't dismiss a rash just because it's not the classic "bulls-eye", Many times, the rash is nonspecific, or appears as multiple rashes (see photo)
3. The rash of Lyme disease does not occur immediately at the time of tick bite, but somewhere within 3 days to 3 weeks after the bite
"The Lyme rash typically lasts 2 to 4 weeks and disappears on its own", counsels Dr. Braccia, "It is important to take a picture of the rash before it disappears. The photograph may help your physician make an accurate diagnosis. Getting a proper medical diagnosis for Lyme disease has always been tricky. Lyme disease often starts with flu-like feelings of headaches, muscle and joint aches, neck stiffness, low-grade fever and fatigue. Some will develop classic Lyme arthritis Normally, this involves painful swollen joints that predominantly involve the knees, hands and wrists".
"The good news," according to Dr. Braccia, a Lyme literate physician in Havertown, PA, "is that in the early stages of Lyme disease, oral antibiotics given appropriately for thirty days will cure over 85% of cases. In fact, in my day-to-day practice, which specializes in Lyme disease testing and treatment, I often recommend that patients who have a deer tick bite in an endemic area should receive preventive antibiotic therapy".
"Unfortunately, if individuals are not treated, after a few days to weeks, the tell-tale rash will disappear, as well as their initial symptoms, but they are still infected," continues Dr. Braccia.
According to Lyme experts, rashes are caused by ticks infected with Lyme bacteria (B.burgodferi). The tick most often associated with Lyme disease is the deer tick, though all ticks can carry a number of other diseases that can be transmitted to humans. Deer ticks are small, about the size of pinhead, making them difficult to find once attached.
Ticks are found in low-lying brush, grass or shrubs, and will attach to the unaware host as he or she walks by.Ticks crawl upward on their host until they reach an impediment to their progress. Common areas of attachment are behind the knee, groin, waistline, armpit, or scalp. They attach by piercing the skin with a mouthpiece after secreting an anesthetic from their salivary gland. Attaching pain free, in an out-of-sight area is how the ticks avoid detection. Once attached, blood is siphoned from the host, mixed in the tick's mid-gut and then regurgitated back into the host. The tick may need to be attached for up to 24 hours for the person to be infected, but the infection can occur even within a few hours. It is important that when a tick is removed that it is not crushed or burned. It should be grasped firmly by its mouthpiece with a forceps and pulled out. If part of the mouthpiece remains in your skin, consult with a physician for removal.
The Haverford Wellness Center in Havertown, PA under the direction of Domenic Braccia D.O.is dedicated to the accurate diagnosis and reasonable treatment of Lyme disease and other tick borne diseases. Dr. Braccia and the staff of the Haverford Wellness Center are fully equipped and capable of managing all aspects of Lyme disease and the other tick borne diseases from prevention and management of early disease to the most complex diagnostic and therapeutic cases. These cases include treatment failures, and late stage Lyme disease patients who have been ill for many years. For more information visit: (http://www.HaverfordWellness.com)
# # #