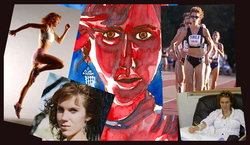 I think I may of been the only person there who has actually had Lyme Disease!
New York City, NY (PRWEB) April 10, 2009
She missed the 2008 Olympics due to a chronic, late diagnosed tick bite, which gave her Rocky Mountain Spotted Fever and Lyme Disease, but that isn't stopping this athlete. Perry Fields is gearing up for a comeback and has taken a short break from training to attend the first movie made about Lyme Disease on Wednesday, April 1st.
Fields attended the GenArt Film Festival along with the movie's actors and directors to see the premiere of LymeLife. LymeLife stars Alec Baldwin, Kieran Culkin, Rory Culkin, Cynthia Nixon, Jill Hennessy, Timothy Hutton and Emma Roberts. Fields says, "I think I may of been the only person there who has actually had Lyme Disease!"
Fields had a conversation with co-writer, Steven Martini (brother of director, Dereck Martini) on why the film was made. "Steven was particularly interested when I told him I have recovered from Lyme Disease to continue my athletic career. He looked at me with intense interest. I had to ask him why exactly did he do a movie with a character who has Lyme Disease and he told me that his high school girlfriend's dad had Lyme Disease and committed suicide."
Fields says, "It obviously left a huge impression on him. It's a personal story and that's why it's so good. I give the Lymelife movie big thumbs up. The drama that unfolds in the families who deal with Lyme Disease is spot on. When I told Steven part of my own story he said it sounded like a movie!"
Fields continues, "I'm thrilled that there is a movie about the agony of families of Lyme Disease victims and I'm hoping that this will bring more awareness of the need to be vigilant when it comes to ticks and the symptoms that tick born illnesses manifest…because it can be treated successfully if caught very early, but after that there are very few people who completely recover from Chronic Lyme Disease."
She also states, "My family went through a very rough time when I became ill with Chronic Lyme Disease. It was a family issue and concern, because had my family not been there during the worst parts, I don't know if I would have survived. This disease makes people do crazy things (just like in this movie.) I was on the cusp of being suicidal, and I had to work hard to try to contain myself. Lyme bacteria invades all organs, including the brain. The scariest part is that anyone in any state can get it just by being outside."
From 2005 to 2008 Fields tried every conventional and unconventional Lyme Disease treatment she could. "Just like the movie, I was given a ton of different medications," she says, but then she had to start going to a more natural approach using various advances in technology to beat it.
Success was slow at the beginning but Fields says, "Had I not tried everything I wouldn't be in the position I am in now, I'm healthier than I've ever been in my life and my training is proving it. So this disease became an opportunity to get things right, even though it took many years away from my athletic career."
Fields was bitten in 2003, but did not know about Lyme Disease. It wasn't until the summer of 2005 at the USA Track and Field Outdoor Championships in the middle of her race, that she knew there was something very wrong. Fields says, "My limbs just went numb and cold in the 2nd lap of the 800m (half mile) and that's when I knew something was seriously wrong." These were Lyme Disease symptoms that were manifesting.
With the World Championships this summer being the goal, Fields knows that summertime is also when most people are bitten by Lyme Disease carrying ticks.
"My advice to everyone is to be vigilant. Check for ticks when you come inside from being outside. Most people who are bitten don't ever know, so there are scores of people right now with strange symptoms that are being misdiagnosed and they really have symptoms of Lyme Disease. Lyme Disease manifests differently in everyone, but one thing is certain, if you don't feel good, never rule out that you might have Lyme Disease. Sometimes you have to ask your doctor to test you for it because most doctors are not knowledgeable on this mysterious bacterial disease. Nobody can even agree on how it should be treated. It's scary," Fields concludes.
For additional information on the Lymelife movie premiere or Lyme Disease contact Perry Fields or visit http://www.BeatLymeDisease.com .
Perry Louis Fields is an outspoken athlete and educator who speaks candidly from the heart. Fields writes a free health newsletter called Beat Lyme, which is available on her website. Her newsletter discusses methods of treatment, inspiration and cutting edge news on the fight against Lyme Disease.
Contact:
Perry Fields
BeatLyme.com
864-506-6581
###