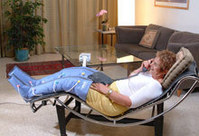 New York, NY (PRWEB) April 30, 2009
More than 40 million Americans suffer from venous or lymphatic disorders, which represent an annual economic cost of over $8 billion of total expenditure on US healthcare. Other than lymphedema, the bulk of peripheral vascular disorder patients suffer from venous ulcers, CVI, DVT, and varicose veins. None of these chronic disorders is currently curable.
Sequential Gradient Compression Pump Therapy for lymphedema and venous insufficiency has been utilized for over 30 years throughout the world. Manufacturer's such as LymphaPress& Bio Compression Systems have helped pioneer and perfect this technology by utilizing a 4-12 chambered pneumatic sleeves to gently move the lymph fluid. These devices are recognized treatments and approved by Medicare and most insurance providers in the USA. Mobility-1™ IPC device is the latest compression technology. The Mobility1™ IPC was designed by a technology company in Israel. It is protected by two patents surrounding the use of kinetic energy to drive the pneumatic action, as well as the sophisticated internal mechanisms that allow for the pneumatic action to also be driven by a very small and portable compressor. The product will be the only one of its kind, allowing mobile patients to receive optimal therapy while maintaining their lifestyle, as opposed to being only home bound for treatment.
It has been estimated estimated 4.6 million workdays are lost every year in the U.S. due to symptoms associated with CVI. CVI is a disease that affects the legs and is caused by non-functional valves in the leg veins. The normal venous system in the legs contains a series of valves that assist in returning blood flow to the heart. When the valves cease to function properly, blood may pool in the lower leg, leading to swelling, changes in skin color and, eventually, ulcerations near the ankle. Leg vein valve failure is, in many cases, caused by blood clots or vein enlargement due to hereditary causes. The swelling and ulceration is uncomfortable and often painful, making it difficult to move around. The most common treatments for CVI are palliative such as conservative leg rest and use of compression stockings and pumps.
Lymphedema symptoms may consist of swelling, heaviness or tightness of the extremity, feelings of discomfort, or a chronic aching in the upper or lower extremities. Lymphedema of the legs may be present at birth, develop at the onset of puberty (praecox), or not become apparent for many years into adulthood (tarda). Some cases of lymphedema may be associated with prostate cancer or from other vascular abnormalities. In the lower extremity it will be unilateral or bilateral. If it is bilateral, one leg may be worse than the other.
LymphaCare has been providing home compression pump therapy to lymphedema and venous stasis ulcer patients and the medical community for nearly 15 years. These pumps are a clinically proven and cost effective therapy. Treatment compliance is increased as patients can utilize the compression devices on a daily basis in the comfort of their homes. LymphaCare has seen a significant improvement with many patients, especially if conservative therapy such as compression stockings and elevation has been tried prior to receiving a pump. The discomfort, financial, or time constraints of conservative therapies may preclude a physician prescribing home compression therapy for many patients.
LymphaCare has had a great deal of success obtaining the lymphedema pumps for patients for home use through Medicare, Aetna, Blue Cross, and most major medical insurance policies.
LymphaCare is a national provider and billing and reimbursement specialist for compression therapy devices such as Bio Compression & Lympha-Press Sequential Gradient Lymphedema Pumps, and MOBILITY1™ IPC.
LymphaCare compression therapy products can be found on our websites or by calling LymphaCare at 800-288-1801.
###