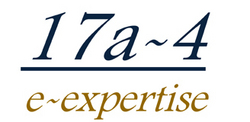 The DataParser has become the leading software tool to capture 3rd party messaging content and format it for archive ingestion
Millbrook, NY (Vocus) November 5, 2010
17a-4, llc announces the release of v6.6 of the DataParser including support for Microsoft's Lync Server (previously Office Communication Server or OCS) and SharePoint 2010.
"The DataParser has become the leading software tool to capture 3rd party messaging content and format it for archive ingestion," says Charlie Weeden, Managing Partner of 17a-4. Several hundred financial institutions use the
DataParser to capture content from:

Bloomberg™
Reuters™
Blackberry™ SMS
Microsoft LiveMeeting™
LivePerson™
"Content from all of these sources," adds Charlie Weeden "is normalized into email formats so that they may be ingested into archival systems. This allows e-discovery tools to quickly find and produce this content."
Working with financial industry clients, 17a-4 has identified several different SharePoint List Types which may be considered e-communications and subject to SEC and FINRA retention regulations. These include:

Blogs
Blog Comments
Discussion Boards
Announcements
Each DataParser interface may be licensed separately on either an annual or perpetual basis.
About 17a-4, LLC
Since 2001, 17a-4 has assisted financial and other regulated institutions to comply with regulations including SEC Rule 17a-4. Included in 17a-4 services are: Annual Email Compliance Reviews, Letters of Undertaking, archive installation and e-discovery productions. 17a-4 llc works with compliance, IT, and general counsel departments to effectively close open issues in firms' infrastructure to achieve compliance.17a-4, llc is backed by Inclusive Ventures, llc. For more information, visit http://www.17a-4.com.
About Inclusive Ventures, LLC
Inclusive Ventures focuses on companies that use technology to transform business processes. Inclusive Ventures was the first institutional investor in Intralinks which recently went public on the NYSE (Symbol IL). Other portfolio companies include:

Law Department Desktop LDDS provides corporate law departments with a secure, hosted platform for managing document collaboration, and other services from the corporation's outside law firms.
ShArchive, llc manages financial archive retention using Microsoft's SharePoint 2010.
###