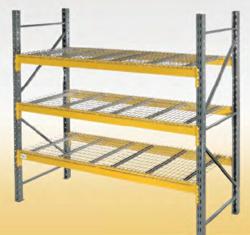 Customers will love our super quick shipping times on Lynx Pallet Racks
BOSTON,MA (PRWEB) November 16, 2012
The Lynx line of Industrial pallet racks is a great supplemental line to A Plus Warehouse's current pallet rack offering. Lynx racks have double slotted uprights that allow for positive beam locking. Penco designed the original mass market double slotted pallet rack upright, and Lynx by Wireway continues with that tradition. A Plus Warehouse is pleased to offer Genuine Penco Pallet Racks as well as Lynx racks as well. Customers appreciate prompt shipping, and the A Plus Warehouse / Wireway Husky commitment to stocking Lynx pallet racking is unparalleled. According to Ed Stairman, President of A Plus Warehouse "With the addition of the Lynx pallet rack line, customers will now be able to get 8000# capacity beams from stock. Customers will be thrilled with our new lead times"
A Plus Warehouse offers the Lynx pallet racking with two different upright cross sections. The heavy duty upright has a leg cross section 3 inches x 1 5/8 inches and a maximum capacity of 19,380 pounds per upright. For customers that need to store more than 38,700 pounds per bay of pallet racks , the extra heavy duty upright measures 3 x 3 and has a per upright capacity of 24,957 pounds. Because of the unique design, an 8 foot Lynx beam with a 5.5 inch face yields an amazing capacity of 8,700 pounds per pair. Uprights are available in various heights and in 36 , and 42 inch depths. Customers that want 48 inch deep pallet rack, and require stock shipment should look at our traditional roll formed pallet rack.
Lync pallet racks are excellent given their comparability with Penco Products , and the great capacity. For customers that need capacity in excess of Lynx Racks , A Plus Warehouse is still very strong in structural pallet racks. Structural pallet racks are bolted together and are manufactured of structural steel. Very few dealers shop structural racks online, as they are in relatively low demand. A Plus Warehouse , however, always does their best to provide the right products for any given customers , even if that means promoting items that tend to be lower in demand.
A Plus Warehouse sales people are all very well trained in pallet racks, and will be able to offer any customer the hands on treatment that many customers appreciate. A Plus Warehouse operates one centralized call center which is right here in USA. By having all the sales representatives in one location , A Plus Warehouse can easily disburse information to their team and make sure customers get the best information.
About A Plus Warehouse: A Plus Warehouse operates the http://www.apluswhs.com website and has continuously since 1997. A Plus Warehouse specializes in storage equipment and is always offering new and exciting products for their loyal customers. The most recent line added is the Lynx Pallet Rack line by Wireway Husky. Customers should feel free to call A Plus Warehouse at 800-209-8798 with any questions.