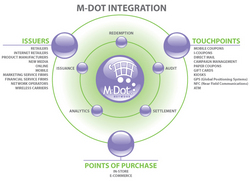 The Food Retail Technology Guide
Erie, PA (Vocus) March 5, 2010
Aberdeen Group recently released a technology guide for retail industry's rapidly changing future. The study, titled "The Food Retail Technology Guide," provides an assessment of the current upheaval and planned areas for reviving food retailing in 2010 through a combination of business and technology strategic drivers. The Aberdeen Group's analysis highlights the state of the customer, business, and systems in this vital segment of retail, with a primary focus on two key factors: mobile couponing and web couponing.
According to the report, 2010 will be a crucial year for food retail revival. The aggregated view of results from Aberdeen Group's 2009 retail surveys indicate that even though food retailers are at the forefront of bearing the brunt of harsh economic realities, increased competition for consumer wallet share, and dynamic shelf-level customer preferences, the focus on both traditional and non-traditional business process and technology improvements continues unabated.
Business sustenance and growth, within grocery, c-store, supermarket, and general merchandise food retail is not possible with traditional business processes and technologies alone. For appealing to the buying senses of consumers, food retailers need to expand customer-centric improvements, supply chain, and replenishment programs more rapidly in hopes of re-engaging and re-activating the less loyal customers and keeping existing customers extremely satisfied. These are the imperatives for creating a customer-ready retail environment. The need of the hour is to elevate business process, technology infrastructure, and technology applications layers.
M-Dot Network CEO and Founder, Bill Catania, recognizes this need within the industry and is prepared to satisfy it. M-Dot Network's focus is entirely exclusive to retail technology offering retailers, both large and small, avenues for establishing a system for web couponing and mobile couponing.
The way in which M-Dot Network institutes this technology is via their exclusive software platform. The M-Dot Network platform has the ability to connect product manufacturers and coupon issuers directly to their consumers by issuing instantaneous and immediate coupon delivery through Internet and mobile phones.
According to Aberdeen's report author and research director, Sahir Anand: "M-Dot has a comprehensive loyalty platform and ecosystem relationships to deliver seamless cross-channel loyalty needs of retailers. In retail, web and mobile loyalty and response-marketing programs are giving traditional mediums a run for their money. M-Dot provides both web and mobile loyalty programs that can add value to the current loyalty and marketing programs of retailers."
Through such mediums, both newer and older customer segments have the potential to be satisfied; new customer segments will be formed with the integration of web and mobile channel offers and older segments will continue their patronage with the inclusion of more value for their money.
Featured Underwriters
This research paper was made possible, in part, with the financial support of our underwriters. These individuals and organizations share Aberdeen Group's vision of bringing fact based research to corporations worldwide at little or no cost. Underwriters have no editorial or research rights and the facts and analysis of the report remain an exclusive production and product of Aberdeen Group.
M-Dot Network, a retail technology company, provides retailers with an enterprise platform to manage their digital coupons and incentives. The M-Dot Network connects retailers, digital coupon issuers and shoppers, eliminating paper coupons, speeding up check-out lines, expediting the reimbursement of coupons to retailers and reducing coupon fraud. M-Dot's digital transaction network provides real-time connectivity between Internet and mobile based technologies to in-store point of sale (POS) systems for the purpose of enabling real-time redemption of digital coupons and incentives. The M-Dot Network utilizes existing in-store systems with no need for additional in-store hardware or infrastructure.
For additional information on M-Dot Network:
Kevin Seeker
Web: http://www.mdotnetwork.com
###