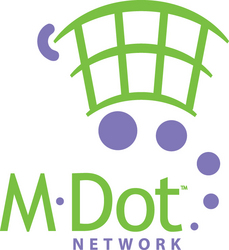 A Light at the End of the Tunnel an Emerging Consensus in Electronic Couponing - and What it Means for Food Retailers
Erie, PA (Vocus) October 21, 2009
M-Dot Network, http://www.mdotnetwork.com , announced today that it plans to unveil and demonstrate a new digital coupon and incentive network at the Retalix Synergy Customer Conference and Expo, November 8-11 in Dallas, Texas.
M-Dot Network enables retailers to redeem coupons from multiple coupon issuers in real-time. Shoppers receive digital coupons via the retailer's web site or a micro-site on their mobile phone. Offers are sent to shoppers based on their preferences from multiple third party coupon issuers and the retailer. Shoppers redeem coupons by simply swiping their shopper's card or providing their phone number.
M-Dot Network recently completed a successful 1,000,000-user performance test using SOASTA's CloudTest On-Demand service. This test helped the company validate that the new platform could sustain the demand of a network with more than 200,000 stores sending concurrent transactions from a million different endpoints.
"Integration of our new digital coupon and incentive platform into Retalix's point of sale (POS) systems provides a way to provide seamless digital coupon issuance and redemption. Because we have a true POS integration, our digital coupon redemption solution doesn't require a loyalty card or any additional in-store hardware or infrastructure," said Bill Catania, CEO of M-Dot Network.
Show visitors will also be to attend an M-Dot Network presentation, "A Light at the End of the Tunnel an Emerging Consensus in Electronic Couponing - and What it Means for Food Retailers," given by David Diamond. Diamond is president of David Diamond and Associates, a strategic marketing consulting firm with clients in consumer packaged goods, retail and marketing services industries.
According to Diamond, electronic couponing is finally ready to happen. The combination of the current economic climate, the willingness of key retailer and consumer packaged goods leaders to make it happen, and the maturity of the enabling technologies means that after years of creeping forward, electronic couponing is ready to dominate. "The real change that will drive couponing over the next few years will be the delivery of paperless, electronic coupons through all sorts of devices from PCs to cell phones to iPods," said Diamond.
To learn more about M-Dot Network's new digital coupon and incentive platform visit booth 405 at the Retalix Synergy Customer Conference and Expo or go to the company's web site at http://www.mdotnetwork.com.
About M-Dot Network
M-Dot Network is a digital incentive processor that enables retailers to issue and redeem digital coupons and incentives in real-time while utilizing their existing in-store technology infrastructure. M-Dot Network provides secure transaction processing treating digital coupons and incentives similarly to currency. The company is headquartered in Erie, Pennsylvania with its engineering operations based in the Tampa/St. Petersburg, Florida region. For more information visit http://www.mdotnetwork.com.
Contact:
Kevin Seeker, CMO
814-218-0202
###