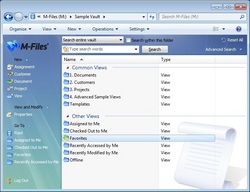 M-Files 7.0 makes major strides on numerous fronts, continuing our relentless drive to make professional document management accessible to any business, no matter how small or budget-constrained. -- Greg Milliken, president of Motive Systems Inc.
Plano, TX (Vocus) September 28, 2010
Motive Systems, the developer of M-Files easy document management software, has launched M-Files 7.0. This latest version of M-Files focuses on maximizing the efficiency of daily operations through enhancements to email and workflow management, improved search capabilities for instantly locating documents, and numerous user interface improvements. In addition to new features specifically associated with Microsoft Office, M-Files 7.0 user interface and search enhancements make it even easier to manage important business information such as documents, customers, and projects, while also ensuring that the right information can be found quickly when it is needed. Further, with the volume of documents rapidly increasing in many companies, M-Files 7.0 adds support for large document vaults that contain millions of documents. M-Files 7.0 also provides the foundation for the recently announced M-Files Cloud Vault, a hosted version of M-Files available for a low monthly fee that does not require purchasing or configuring a server.
"We are very excited about M-Files 7.0, especially the enhancements to workflows and the display of objects and their relationships," said Stephane Mellier, general manager of StreamDesign, an M-Files partner and solution provider. "After working with M-Files 7.0 for some time, we estimate that the new features and enhancements will deliver an increase in productivity of at least 20 percent in daily data and document management activities."
Get Control of Overflowing Email Inboxes
Email is the primary means by which most companies communicate and process information, but the huge volume of email means that managing and tracking it has become a major drain on productivity. M-Files 7.0 builds on its existing integration with Microsoft Outlook to dramatically improve the way businesses manage email. M-Files 7.0 adds "M-Files aware" folders and support for standard Outlook rules for automatic email processing. When an email is moved to one of these folders (either manually, by dragging and dropping, or automatically, via an Outlook rule), it is automatically stored in the M-Files vault and classified with user-defined tags. This direct connection to the corporate document vault via Outlook folders requires no special technical skill and enables automated archival and workflow processing based on who sent the email, who it was sent to, or what it is about.
When emails are stored in the vault, in addition to tagging them with user-defined properties, or metadata, all threads are maintained, along with relationships to companies or customers, and contacts. This allows an email to be quickly and easily located and sorted based on the customer or contacts to which it is related, or by any property, such as the subject, the date received or sent, the project to which it is related, and so on. Further, M-Files eliminates duplicates by checking to determine if an identical email has already been saved.
"M-Files 7.0 makes major strides on numerous fronts, continuing our relentless drive to make professional document management accessible to any business, no matter how small or budget-constrained," said Greg Milliken, president of Motive Systems Inc. "While M-Files is a feature-rich solution that can meet the needs of even very large enterprises, ease of use is our primary goal. When we add new functionality we will only add it if it can be implemented in a fashion that is easily accessible to any Windows user. The email management features of M-Files 7.0 are a great example of this: to save emails to the vault you just drag and drop them right into an Outlook folder, or set up a standard Outlook rule to automatically move it to the appropriate folder. These are standard features with which Outlook users are already familiar, so there is nothing new to learn. In other words, if you know Windows, you know M-Files."
Other New Features in M-Files 7.0

New grouping options within search results that speed up the location of documents and other objects.
Predefined search criteria, such as searching only for documents or customers.
Improved workflow assignments and shortcuts for changing workflow states.
Save to the vault as a PDF without opening the document in an application.
Improved handling of larger document vaults that include millions of documents.
Support for six new languages, including Arabic, Croatian, Italian, Russian, Simplified Chinese, and Spanish, bringing the total number of languages supported by M-Files to 21.
Why Easy Document Management Makes Sense for Any Company
Most companies store documents in cluttered network folders, or deal with the problem of important documents scattered across individual PCs. Professionals spend up to 50 percent of their time looking for the right information*, including unproductive tasks such as searching for documents and emails, interrupting colleagues to locate information that should be available instantly, determining if a document is the latest version, or worse, needlessly duplicating work already completed by a colleague. Each day, when opening or saving a file from applications like Acrobat, Excel, PowerPoint, Word and QuickBooks, millions of office workers are wondering: "Where is the file I need?", "What was it named?", or "Is this the latest version?". This is a huge drag on productivity, especially if one factors in those times when a document simply cannot be found and must be recreated, or when work progresses using the wrong version of a document.
M-Files is a Must-Have Addition to Any Windows Workgroup
M-Files is a powerful document management system that enables companies and organizations of all sizes in a variety of industries to make dramatic gains in efficiency and productivity by improving the way they organize and manage their business documents and processes — without requiring them to change the way they work. M-Files eliminates traditional Windows folders; instead, users open from, and save to, the M-Files Vault. Documents are simply classified as a common type, such as an invoice, proposal, email, contract, etc., and a descriptive tag or two is added — that's it. Finding a file is as simple as typing in a tag or performing a full-text search right from the Open or Save dialog box of any Windows application. This is possible due to M-Files' unique "Virtual-Local" drive technology that allows the vault to appear as a local hard drive (the M: drive), in any standard Windows Explorer dialog box, whether online or offline. For companies that would rather not set up their own central server, a hosted version called M-Files Cloud Vault is also available, providing all the benefits of M-Files for a low monthly fee.
About Motive Systems
Motive Systems develops M-Files — easy-to-use, professional document management software that enables companies and organizations of all sizes to make dramatic gains in efficiency and productivity by improving the way they organize and manage their business documents, information and processes. Over 100,000 individuals at more than 12,000 customers in over 70 countries worldwide use M-Files to manage their documents. M-Files is available in 21 languages and is in use at customers such as AstraZeneca, BSA LifeStructures, EADS, FinnComm Airlines, Parker Hannifin, and Tupperware. For more information, please visit http://www.m-files.com, or the M-Files blog, Facebook, or Twitter pages.
*"8 Reasons You Need a Strategy for Managing Information -- Before It's Too Late," by John Mancini, AIIM President
M-Files is a registered trademark of Motive Systems. All other registered trademarks belong to their respective owners.
# # #