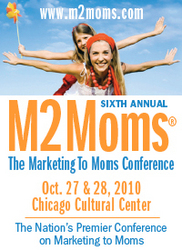 Moms...who are the household CEOs, and control over $1.7 trillion worth of annual consumer purchasing in almost every product category.
Chicago, IL (PRWEB) September 14, 2010
"Whirlpool, Pepsi-Co., Merck & Co., McDonald's, Reckitt Benckiser, H-E-B, Picture People and Williams Sonoma, are a small sample of the different types of companies who will be sending brand marketing executives to M2Moms®," according to Liz Fongemie, producer of the sixth annual M2Moms®– The Marketing to Moms Conference. M2Moms® will be presented by Kodak in the Chicago Cultural Center, October 27 & 28.
"Kraft, Graco, Kellogg, Sara Lee and Smuckers, are also sending people, plus this year we've seen an increase in participation from tech companies like AOL, Electronic Arts, Walt Disney Interactive and Imation. M2Moms® also draws senior execs from the ad agencies that service these brands. Every year every seat in the conference is filled."
"They attend," Fongemie explained, "because they recognize the importance of reaching moms – who are the household CEOs, and control over $1.7 trillion worth of annual consumer purchasing in almost every product category."
"M2Moms® is designed to educate marketers who sell products or services to moms. It includes new moms research, marketing case studies, how-to sessions on social media and creative tactics," Fongemie added, "and a full roster of special events designed to facilitate peer-to-peer learning between everyone in attendance, the brand marketing executives, the speakers and the sponsors."
M2Moms® features over 30 marketing-to-moms experts, notably: Betty Noonan, VP, Consumer Marketing, Eastman Kodak Company; Carley Roney, Editor in Chief of The Bump and Co-Founder of The Knot, Inc.; Jamie Sohosky, Senior Director, Brand Marketing, Walmart; Stacy DeBroff, Founder, CEO of Mom Central Consulting; Eileen Gaffen, Public Relations Director, Hallmark Cards; Donna Mirus Bates, SVP Brand Marketing, Universal Orlando; and Maureen Wolpert, Sr. Brand Manager, Seventh Generation.
M2Moms® is presented by Kodak. Associate sponsors include: Ketchum, MomsLikeMe, Trone, The Bump, Barkley, imc2, WhatToExpect.com, Destination Maternity Corp., Fleishman-Hillard, Mom Central Consulting, Response Media, PMP, The Martin Agency, Disney Online; Showcase Sponsors: School Family Media, Carolina Pad; Workshop Sponsors: 360 PR, Frank About Women, C&R Research's ParentSpeak; Hospitality Sponsors: Scholastic Parents, Cakes.com, SheKnows, The Haystack Group, SheSpeaks, iVillage; Video Content Resource: SNiPPiES. This year M2Moms® proudly supports: Jack & Jill Late Stage Cancer Foundation.
For conference information: http://www.m2moms.com or 860.724.2649 x11. M2Moms® is produced by PME® Enterprises LLC, 216 Main Street, Hartford, CT 06106.
###