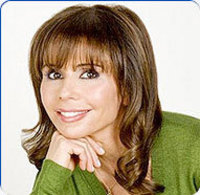 According to USA Today, 93% of all expectant mothers who read a pregnancy guide read Murkoff's book.
Chicago, IL (PRWEB) May 18, 2010
Heidi Murkoff, author of What to Expect When You're Expecting and founder of the What to Expect franchise, headlines this year's 6th Annual M2Moms® – The Marketing to Moms Conference, October 27 & 28, 2010, Chicago Cultural Center. M2Moms® is a senior-level marketing conference designed to help brand marketing executives and their agencies improve their marketing efforts to today's mothers.
"Murkoff is the creator of the world's most popular and trusted pregnancy and parenting brand, What to Expect (WTE)," according to Liz Fongemie, M2Moms® producer. "The cornerstone of the brand, What to Expect When You're Expecting, has been called the 'pregnancy bible' with over 16 million copies in print. According to USA Today, 93% of all expectant mothers who read a pregnancy guide read Murkoff's book."
The WTE franchise includes the What to Expect series of books which has sold over 40 million copies worldwide and is published in more than 30 languages. Their online companion, WhatToExpect.com; and the WTE Pregnancy Tracker iPhone app are now ranked #1 by Apple in the health category.
"Her passionate commitment to parents and babies led Murkoff to co-found and serve as President of the What to Expect Foundation, a non-profit organization dedicated to helping low-income families experience healthy pregnancies." Fongemie continued, "In that capacity she created Baby Basics: Your Month by Month Guide to a Healthy Pregnancy, a pre-natal guide for readers with low literacy. To date, the Foundation has distributed over 300,000 copies in English and Spanish to expectant moms in need across the country."
Murkoff, will be joined by over 30 other marketing to moms expert s, notably Stacy DeBroff, Founder and CEO of Mom Central Consulting and Carley Roney, Editor in Chief of The Bump and Co-Founder of The Knot, Inc.
M2Moms® is presented by Kodak. Associate Sponsors include: MomsLikeMe, Trone, The Bump, Barkley, imc2, WhatToExpect.com, Destination Maternity Corp., Mom Central Consulting; Showcase Sponsor: School Family Media; Workshop Sponsors: 360 PR, Frank About Women; Hospitality Sponsors: Scholastic Parents Media, Cakes.com, SheKnows; Video Journalism Resource: SNiPPiES.
For conference information: http://www.m2moms.com or 860.724.2649 x11. M2Moms® is produced by PME® Enterprises LLC, 216 Main Street, Hartford, CT 06106.
###